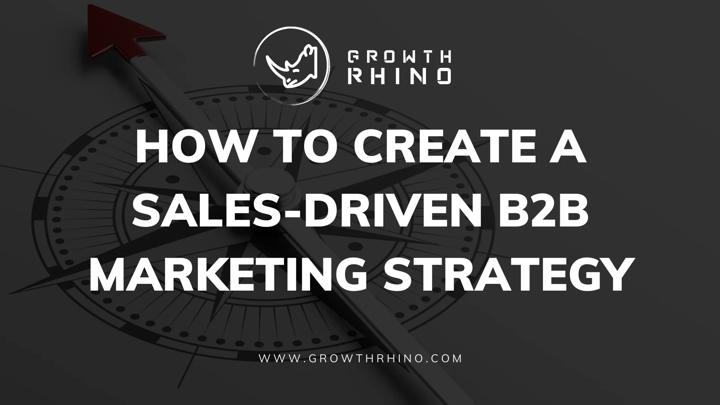 As a business owner, you know that B2B marketing is one of the most effective ways to generate leads and increase revenue.
But how exactly do you create an effective B2B marketing strategy? It all begins by understanding your customer base. In this blog post, we will cover some important steps in developing a successful B2B marketing strategy that drives sales. We will outline the strategies for building a solid B2B marketing program that will drive sales for your business.
How to Build a B2B Marketing Strategy?
When you begin developing your first business-to-business marketing plans, the first thing you'll notice is that there isn't a "one-size-fits-all" solution. This is one of the many reasons why so many individuals seek out B2B marketing agency services. An effective marketing strategy may not be as successful for one firm as it is for another.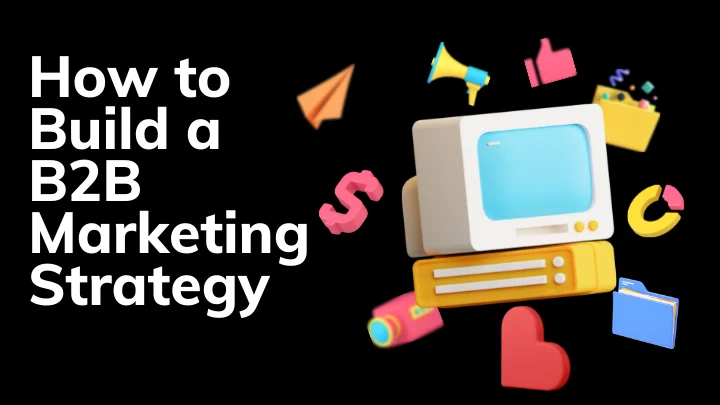 A B2B marketing plan should be tailored to the specific goals of your company. It should also work for the needs of the customers that you are trying to reach.
To achieve measurable success, make sure you follow these steps in your B2B marketing tactics.
Key Steps for Effective B2B Marketing Strategies:
1) Define your customers:
Any good marketing strategy starts with knowing the customer. The first step in any marketing campaign is to have a clear understanding of your target audience. You must know as much as you possibly can about not just the sort of business that your firm targets but also who the decision-makers for those businesses may be when it comes to B2B marketing.
In order to reach your customers, you need to understand who they are and what their needs are. It's also a good idea to make sure that all the companies in your target audience have been identified.
The best way to identify these companies is by looking at data from sources like LinkedIn or Hoovers. You can use this information as a source to build buyer personas.
Developing a strong user persona is an important stage in any B2B marketing plan. The more information you can include in your persona, the more personalized your marketing may be. This then enhances the connections you develop with your target audience.
2) Understand the context:
Battling industry trends, B2B marketers need to understand the context of their buyers' lives and careers. Understanding how your product fits into a customer's day is not just helpful, but it can also be critical for gaining market share.
You must begin producing content that appeals to your target market and points out the benefits of your business. Learn everything you can about what your customers are searching for when they visit your company.
You can do this by asking questions. What is their pain point? What's their reason for possibly buying this product? What does their journey look like, and how can you help them with that?
Find out what your customers want and what is making them unhappy. You can then offer products that will solve their problems. The more you know about the context, the better equipped you are to sell to people.
Once they're on board with purchasing what it is that you offer, keep producing content highlighting why this is a beneficial decision for them to make in their lives. If someone believes that having your product will enhance their quality of life or make their job easier, they'll be more likely to share personal information with you.
To create effective B2B content, you need to know who your buyers are and what makes them tick—outside of work, as well as inside it. You should also be able to understand their issues with using your product or service so that you can develop appropriate scripting for each persona. Keeping this information in mind when developing your B2B content can help you create a strategy for building trust and generating sales.
3) Use your online presence to generate trust:
Even when prospects are eager to engage, they are usually skeptical of what marketers have to say—especially when it comes from someone who is speaking at them rather than to them. The best way that you can build this kind of credibility among buyers is to build an online presence that they can trust.
While you are trying to get your message in front of B2B buyers, it's important to not only engage them on the platforms where they spend their time but also to make sure that what you have to say is accurate and valuable to them.
In B2B marketing, your online presence is critical in establishing trust and attracting the attention of your target audience. If prospects do not trust whatever you are offering, they are unlikely to convert. Today's B2B buyers will disregard any business that has the following weak points:
Confusing calls to action
Poor design
Low-quality content or information
Difficult navigation
4) Share your expertise with your leads:
You as a business that caters to other businesses should be an expert in your field. If you have some knowledge that you can offer to share with your clients that will increase their own value to their customers, this may be a fantastic method to gain long-term business.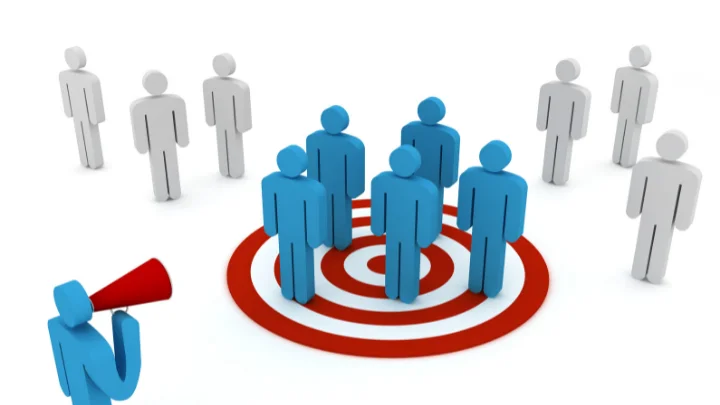 Demonstrate to your customers that you're worth their time and money by implementing the following ideas:
Publishing valuable blog content
Offering/hosting free webinars
Hosting seminars and training sessions in person
Sharing your expertise will also help build your business's authority, which is essential for customers who are looking to buy from an industry leader. For example, if you're a marketing agency offering branding services to other businesses, publishing blog content related specifically to your niche can demonstrate your authority on the matter.
Backing up this content with case studies of past customer successes will further prove that you are a leader in your field. With this, you can show them that by working together with you, they too can be successful.
5) Be realistic, and overdeliver:
Making huge claims to your consumers is one thing, but if you don't follow through on the benefits that you've advertised, you may end up destroying your own reputation.
Even more so in B2B than B2C, your audience wants to know that you can be trusted to deliver consistent value and continuing benefits. To put it another way, your B2B marketing strategy should focus on ensuring that you deliver on all your promises to your customers.
6) Review and analyze:
It's critical to keep a close eye on your company's marketing campaign, no matter what it looks like. It's critical to track, analyze, and search for methods to enhance your B2B marketing efforts. If you don't hire the help of a B2B marketing agency, there's a good chance you won't get everything you need.
B2B marketing is not a simple process. It takes a lot of work to do it successfully. There may come new trends in your industry. Then you need to change and adjust your strategy again to get new leads. You should focus on your B2B marketing strategies and be ready to adapt when necessary.
Effective B2B Marketing Strategies:
1) Research:
Research is important for marketing. You'll be able to learn about the market and your business in this session. Because it will help you understand your clients better, research will aid you in making superior judgments and then provide them with greater service.
Research will also show you how successful your business is; it can actually help companies grow. If the company is doing research about their customers and prospects, this helps them grow faster than other companies that don't do the research.
2) A Niche-Focused Strategy:
One of your most important roles to take in business is to be a specialist. Our research has shown that the fastest-growing companies are specialists in the industry. They are experts and leaders. This should be an industry that you know well, an area of the market that you have considerable expertise in, where you can establish yourself as an indisputable authority and leader.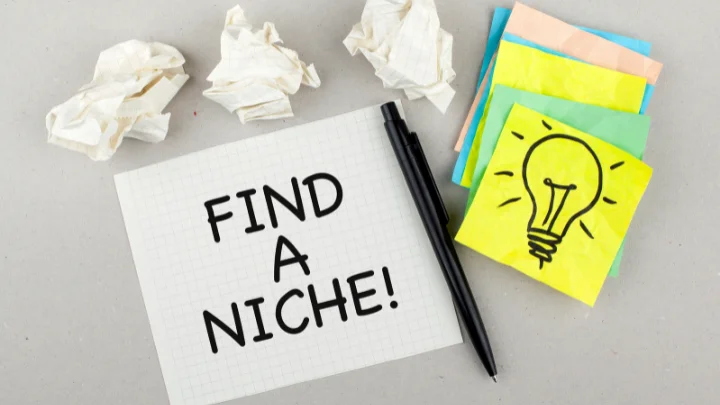 A specialization is a differentiator that proves itself. You can do all your marketing easier because it defines what you do.
3) A High-Performance Website:
Your website is the home base of your online marketing efforts. It is a tool for finding more clients. A successful, well-designed, and well-optimized website is an essential marketing tool. It is important to have information about your company online so people can learn more about you.
Potential clients use the internet to look for service providers. Therefore they must be able to locate your company's website in order for you to have a chance at obtaining their business.
Furthermore, your website allows you to demonstrate your company's expertise and become well-known throughout the industry. A good website is where you establish trust with prospects and customers, so it should have these things in mind.
Characteristics of a Good Website: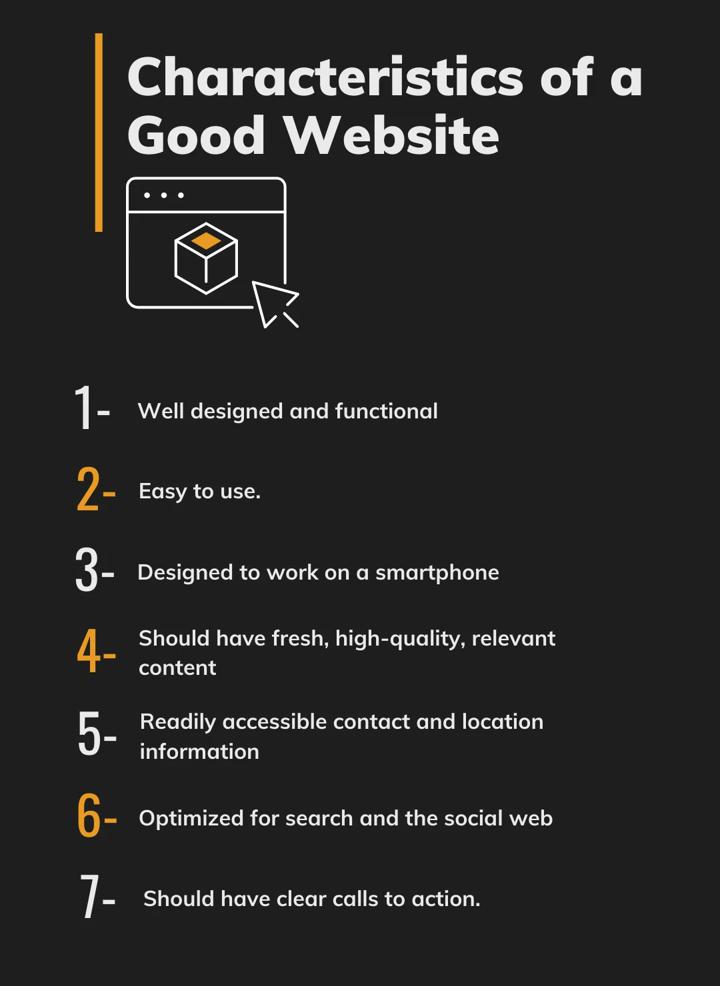 Well designed and functional. Your site must be visually appealing. It should reflect your products, your services, and who you are as a company, which is your brand.
Easy to use.
Designed to work on a smartphone.
Should have fresh, high-quality, relevant content.
Readily accessible contact and location information.
Optimized for search and the social web.
Should have clear calls to action.
4) Social Media Marketing:
How can you use social media as part of your B2B strategy to generate leads and increase sales?
Social media has become an integral part of any business's online presence. It's more than just a way to share content, updates, or news with customers: it provides an opportunity for organizations and businesses to make themselves accessible to new and existing customers.
Social media is a way for businesses of all sizes to
reach potential clients,
increase brand awareness, or
boost sales with minimal effort.
5) Email Marketing:
Email marketing is one of the most effective way to generate leads and close sales. It's a fantastic approach to market your content, encourage leads, and guide them down the sales funnel.
Using an email marketing campaign can help you
increase your website traffic,
generate more sign-ups or conversions on your landing page, and
boost sales with fewer resources than other forms of B2B digital marketing.
6) Content Marketing Strategy:
Creating content that will be useful to your audience and that they will want to share is an incredibly effective way of generating leads and sales for your B2B marketing strategy. Use content as a tool to increase brand awareness, generate more traffic, build trust with potential clients, boost conversions on your website or social media channels, etc.
The key to getting the most out of your content marketing budget is to employ a successful promotion strategy that attracts high-quality leads, nurtures connections, increases conversions, and improves customer retention.
7) Search Engine Optimization (SEO):
SEO is the process of optimizing your website content to rank higher in search engine results. It helps people find your site. It is a key piece of the puzzle in online marketing.
Including relevant keywords and key phrases within a blog post will make it more likely that Google will show your page first when someone searches for those terms or topics, increasing traffic to your site.
The goal of SEO isn't just about getting more people to visit your website. It's about getting the RIGHT people to visit your site, which means you need a B2B marketing strategy that provides value and interest for every visitor. The best way to ensure this is by creating content with a purpose.
On-page SEO:
On-site SEO employs targeted keyword phrases to convey the key ideas on your site that are relevant to your audience. It is a method of informing search engines of what your website is about. This allows search engines to return more useful results to customers. And when viewers seek knowledge on your field of expertise, you'll be the first result they see.
Off-page SEO:
Off-page SEO entails adding links to your website, either through external engagement or guest articles in other publications, for example. These efforts aim to improve the authority of your site as a well-known leader in your area.
The more high-authority and relevant sites link to your website, the more reputable search engines will begin to perceive your site, resulting in improved rankings.
8) Advertising:
There are several channels through which your business can effectively advertise:
Social media marketing
Google Ads, as well as Bing and Yahoo
Online advertising (PPC)
Email marketing
Industry publications and websites
Link building (guest posting)
Retargeting ads—a cookie-based technology that uses a simple JavaScript code to anonymously "follow" your audience across the web and serve relevant ads
Personal outreach
Advertising does more than just promote your services; it helps to increase content downloads and boost both your image expertise and visibility. However, you should utilize forms of advertising that are most suited for professional services.
LinkedIn, retargeting, and other industry-focused advertisements perform the best because they let you target industry audiences most effectively, resulting in higher conversions.
PPC ads (or pay-per-click advertising) are similar to Google AdWords, but they allow you to target B2B audiences by industry or keyword phrase instead of by just searching terms. PPC campaigns are typically more expensive than banner ads because they require a greater investment in time and money upfront. However, it can be worthwhile to have a higher upfront investment if you can generate conversions at lower costs per lead.
It's important to remember that there are many variations of each of these advertising types. Professional services firms may find them more or less successful depending on budget, ad purpose, targeting, and industry niche.
9) Referral Marketing:
Referral marketing is typically used to describe the process of encouraging your customers and clients to refer new leads.
This can be done through incentives, such as gift cards or discounts, in order to entice them into providing you with qualified leads that could turn into sales opportunities.
Where do these referrals come from? Most of them are based on a company's reputation with specific expertise.
Word of mouth from people who are happy with your product or service is a good way for you to get more customers. People will tell other people, and it can be a very effective marketing strategy.
For this reason, many businesses will only provide referral incentives to new clients who make an immediate purchase as a result of a recommendation. In other words, they are rewarding their existing clients to buy more items or services.
10) Marketing Automation:
Marketing automation, as the name implies, is a technology that automates high-touch, time-consuming manual processes and gives them support through technological solutions.
Why use marketing automation?
Marketing automation unifies all your online marketing channels into one system for generating, managing, and assessing programs and campaigns.
The greatest marketing teams employ marketing automation to improve the accuracy of their campaigns and give their sales team better leads, resulting in higher revenue and growth. Marketing automation also provides a clear picture of ROI and assigns revenue numbers for campaign performance reports.
Marketers are more effective at qualifying leads and forwarding them to sales when they use marketing automation, resulting in greater income and better development.
11) Testing and Optimization:
Testing and optimization allow you to iterate your marketing activities and make on-the-fly judgments based on hard facts rather than instinct.
Testing and optimization are your permanent guide. You should never cease testing your marketing campaigns and making adjustments as needed. This allows you to identify and adjust the variables that lead to conversions.
For example:
You may use A/B testing on emails and landing pages.
Using A/B testing tools, you may examine which of two emails or landing pages converts people more effectively based on variations in language, design, or other features.
12) Analytics and Reporting:
It's also critical to evaluate the appropriate metrics in order to get meaningful results. You'll need systems in place to collect accurate data on all your activities—including your website, social media, and SEO.
Google Analytics is an important tool for monitoring and analyzing your website traffic. There are a lot of tools that may assist you in analyzing and improving your SEO outcomes and offer comprehensive social media analytics.
A professional SEO company can assist you with keeping track of and enhancing your website's rankings, but without data, it will be meaningless.
Analytics and testing can help you figure out what works best in your marketing and what does not. They will assist you in making your marketing efforts more effective.