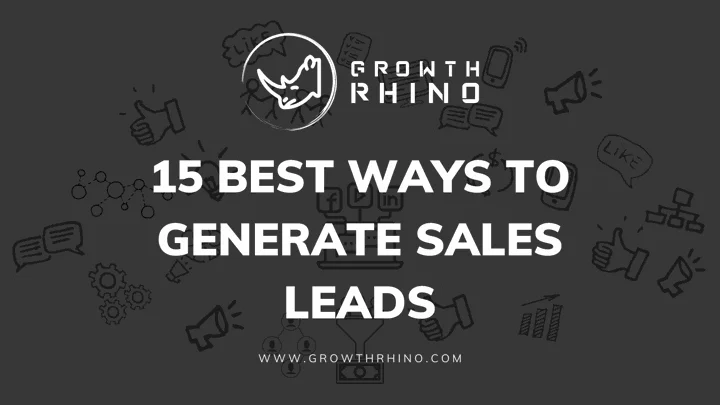 Lead generation is a very vast topic that is limitless across various touch points of businesses. Businesses generally focus on lead generation because they aim to survive in this highly competitive market. Today, lead generation has become extremely important. 61% of the marketers find it to be a challenging task to manage sales leads efficiently. But, by implementing effective methods, 55% of the businesses see an increase in traffic in their landing pages. The following article will take you through the entire process of generating sales leads and some important aspects associated with them.
What is a sales lead?
Sales leads in the sales aspect refer to any individual or a company who can eventually turn out to be your buyer. An entity might be your potential client and get interested in your product or service at any point in the future. However, the classification of these B2B sales leads is much more complicated than it sounds now.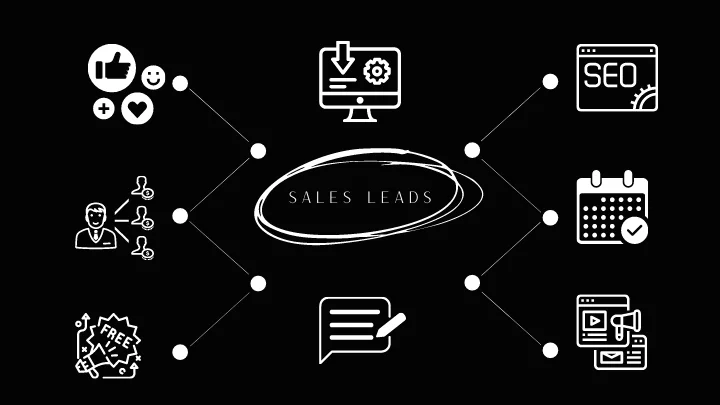 What is Lead Generation?
Lead generation is the process of sourcing genuine and authentic B2B sales leads from all across the business touch points. Lead generation also means creating awareness about the business among its targeted audiences. This raises their interest in the business' products and services.
Who Directs Lead Generation?
Lead generation is directed mainly by the marketing departments of the majority of businesses. But the sales leads generation and prospecting are done by the sales team on its own through the internet and other available data sources. The two teams face general conflict regarding the quality leads and their volume in order to hit the right sales targets. There are always good sales leads, so the teams work harmoniously to identify the best ones.
Categories of Sales Leads
Sales lead generation techniques have helped to group the sales leads into two different categories: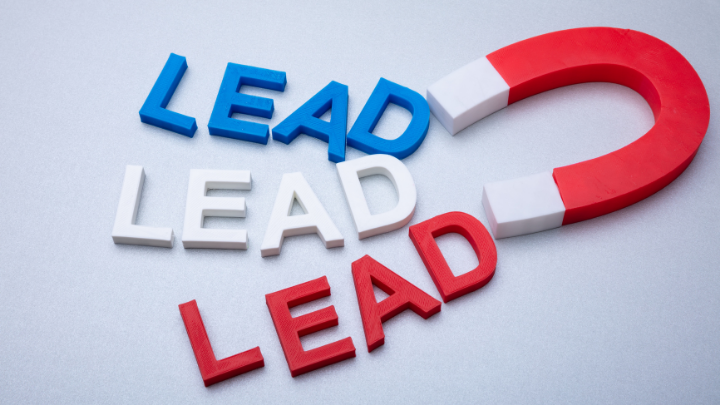 Marketing-Qualified Leads:
These sales leads are the entities engaging who suggest that they are likely to become a customer. The marketing-qualified lead (MQL) might be a visitor to the website who has shown interest in the website content. They might have filled a web form, downloaded some content, or signed up for your newsletter. There might also be possibilities for them to have left something back in the cart. All of the above interactions will lead to the assignment scores being assigned to them, and this would help them understand the lead's position in the buying cycle. When the lead is quiet early in their buying cycle, the marketing department takes the initiative to nurture them further.
Sales-Qualified Leads:
Sale-qualified leads (SQLs), on the other hand, are an indication of the immediate interests of the leads in the business' offerings. The interest might be in the form of the leads signing up for the product demos or trials on your platform. The ideal method for the sales representatives is to act on the SQLs within 24 hours of their discovery of interest. This also means that they already have the required education and do not need to be unnecessarily followed up.
The way to generate sales leads is encompassed by both of these types, which are further classified as three broader types.
Hot Leads:
These segments of the B2B sales leads are ready to buy because they have an immediate requirement. They know the pricing required and already have a budget set to close this deal.
Warm Leads:
This is the type of B2B sales leads who have already taken the trial of your products and services and wish to place their purchase order. This is the time when they are looking out for others and comparing various businesses and service providers to determine who to purchase from. They might also be comparing the features that might be beneficial to them or have locked themselves to somebody else's contracts.
Cold Leads:
These segments of leads have the highest possibility of never having heard of you at all. They are looking for more information about your business and can be called a lead at this point. They might be ready to buy your product or service sometime in the future.
The Importance of B2B Sales Leads:
Unless businesses understand the importance of sales leads generation, they will forever wonder why they need robust lead generation campaigns. Leads are primarily the potential buyers who are at the first step of their buying process. Hence, to have more of such leads converted to permanent clients, businesses need to generate more sales leads. Without having the right knowledge about how to generate leads for business, you will certainly miss out on earning your potential revenues.
With businesses solely dependent on their clients, sourcing more genuine leads can help both the B2B and B2C firms gain huge profits. Below, we will discuss in detail how to generate more leads effectively.
Talk About The Lead Generation Challenges First:
Despite having enough channels and mediums to source authenticated leads, the entire process to generate leads can be challenging. Here are some common challenges that businesses come across while trying to generate more leads: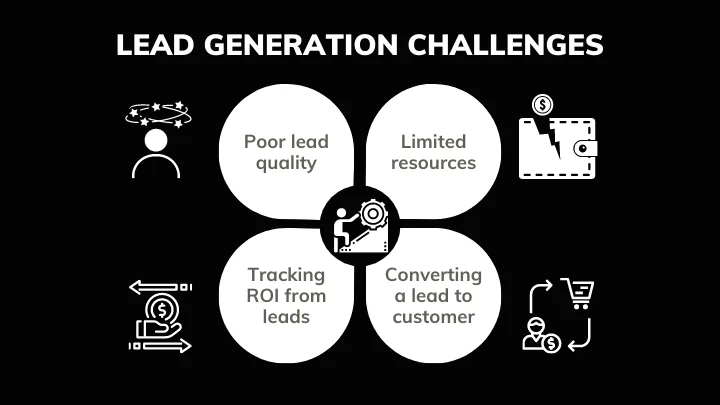 Poor Lead Quality:
This typically happens when you generate leads from random sources but your ultimate sales are very low. The lead quality is poor when the individual or business are not ready to purchase from you. Hence, focusing on the target audience for lead sourcing can be of great help.
Limited Resources:
Time, money, and workforce spent on lead generation can be exhaustive. It is ideal to focus on the tactics that can bring you the best-qualified leads in your budget.
Tracking ROI from Leads:
Another challenge is to understand how effective your campaign has been. The costs of sourcing the leads versus the profits it has generated will clarify if this was worth the investment.
Converting a Lead to Customer:
Studies have revealed that 96% of the visitors visiting websites are not ready to make a purchase. Turning them into actual customers is a real challenge. Hence, 69% of marketers prioritize this point.
Tips for How to Generate Sales Leads:
Use Social Media:
About 42% of the population is somewhat active on social media, and businesses like taking advantage of lead generation through this. Making more connections over Twitter, Facebook or LinkedIn helps the business gain access to a vast range of prospects. Social media can also be utilized to get a recommendation from your clients, post the ongoing offers and discounts, and tell the audience more about the business' offerings while attracting more traffic to your website. This is also a very affordable option to generate easy leads online without exhausting resources.
Implement Landing Pages:
The landing page is created with a special purpose. It is the web pages where the visitors land when they have a distinct motive in mind. Hence, the pages are designed to capture most of the leads with ease, besides using them for various purposes. If the landing pages are housed on the business' servers, then the entire traffic can be redirected to your website and more conversions can be churned.
Get Referrals From Current Customers:
Referrals are another proven and effective way to generate sales. A business will appear trustworthy when happy clients are speaking about them. Past and present customers can be contacted and thanked, and they can share their experiences. The referrals and contacts you are handed with can be proceeded with further nurturing.
Host Networking Events:
Digital media plays a significant role in our engagements, but face-to-face interactions still hold good importance while generating leads for sales. This can be done by attending networking events, bringing back the business cards, connecting over social media, and having significant live interactions. Events are the best times to generate the best-qualified B2B leads, and a business should not miss this opportunity to grow.
Working With the Personal Network:
The answer to how to generate sales leads lies in the concept of personal networking. Neighbors, friends, co-workers, and even family can be valuable lead generation sources for you. They already have trust in you, so spreading positive words about your business will help improve your business' reach. The trick is to connect rightly with the best acquaintances.
Revisit Closed/Lost Opportunities:
Lead management might have made your sales team interact with many individuals or businesses that have shown interest but have not purchased yet. This is the point where they know a lot about the deal, and hence it is easier to persuade them and get them converted into customers. It is ideal for sales and marketing teams to get in touch with the businesses and consumers once in six months and learn whether their priorities have changed. To keep the conversation aligned to the context, you can always send them personalized emails and articles to stay on top of their minds.
Write a Blog:
If you write a blog, you have 13 times higher of a chance for your business to see a positive ROI. With blogs, the businesses can always stay visible, display their expertise, and educate the readers about what they have to offer. Writing a blog about the product/service, marketing, management, and other relevant content can catch the reader's eye, and you can share your blog across the company's website and social media pages.
Improve the SEO:
Investing in massive ad campaigns can easily exhaust the resources where the ROI might not be that high. Instead, businesses now prefer optimizing their websites for the search engine to generate authentic and organic traffic. The web pages will then be scanned and analyzed as per the algorithms to rank the website based on specific criteria. The quality of the content, updated information, and blog posts must be analyzed before adopting SEO strategies. They help the website rank naturally higher on the search list.
Developing The Website:
It is very true how 88% of the businesses try to abandon their websites after not gaining any major benefit from them. This mostly happens because the websites are less attractive, are not user-friendly, or difficult to navigate. Without a website, your business has a significant chance to miss out on a massive audience and potential profit. To attract customers within moments, use calls to action (CTAs). Besides these, attractive images and a familiar layout can also help customers get intuitive while navigating the page. The pages should also load fast and must not appear outdated. Lastly, filling the sections with helpful information can generate three times more leads than other methods.
Offer Freebies or Promotional Items Online:
If the businesses find it hard to accumulate genuine leads, offering freebies or promotional items can attract many people to the business. Various channels can be used to spread the word about the promotion and get it shared through influencers and common individuals. The customers and clients can receive additional benefits through free trials and promotional items, discount coupons, or add-on services. This not only helps get more customers, but it also helps in keeping the existing ones.
Use Interactive Online Ads:
This process involves some investments but is very effective in lead generation through the years. When ads are worked upon and integrated with social media platforms, marketing automation can be used to scrape and accumulate leads. Platforms like Facebook and Twitter help businesses post lead-generative ads that help collect the email addresses of the viewers and interactors. Sharing the contact details becomes effortless. The more valuable the content is, the better number of leads can be sourced.
Create an Email Sequence:
The prospects and leads you need may be receiving multiple emails in a day. To grab their attention, businesses must be creative in their approaches. Sending cold emails while creating a good sequence can be an effective strategy. There can be various points that can be touched through the emails like:
Addressing their pain points
Explaining them the value of your offering
Mentioning them a big client of yours who believes in you
Qualifying and expressing your message clearly
Including a product description that might come in handy to them
The final reach and conclusion to end the email
Organize Webinars:
There are various online platforms that you can use for organizing webinars. The businesses can be the presenter of their product or service to a live set of prospective clients. Interview-style presentations can be helpful in these cases for providing a much better graphical description. This is a great way to drive traffic, educate your target audience, and create interest in purchasing the product. You will also get a better time frame to extend and mold your lecture just how you want it and get into an in-depth sharing of knowledge.
Connect With Live Chat Users:
Businesses use artificial intelligence and machine learning to build updated live chat technologies on their websites. Personalized chatbots are built that match the business' look and feel and appear on the screen when somebody visits the website. With the help of a chatbot, the companies can do the following:
Address queries and respond to them as per the needs of the leads
Qualify and screen out sales leads
Book appointments and meetings
Answer FAQs
Connect visitors to the right department
The chatbots can also connect with the potential leads and engage them to add value and improve their experiences on the website.
Word-of-Mouth Marketing:
Word-of-mouth marketing can be one of the best lead generation tactics and can drive about 13% of consumer sales. With the ever-increasing power of social media, word of mouth has an impressive ability to boost a brand's reputation and drive massive inbound sales. This mainly works through the customers who refer your business. This way, the companies get their desired sales and new leads without having to invest any generous marketing effort. A consumer is 90% likely to purchase a product or service if the recommendation is coming from their friend or immediate family. This not only builds trust but also extends their brand loyalty. The focus here must be on providing your potential customers with the best service possible and letting them endorse the brand for you.
Conclusion
Buying leads from various companies or online portals is very easy, but their authenticity is always under question. Hence, acquiring leads on your own is always worth the marketing effort. To automatically increase the sales lead generation process, businesses and brands must improve and expand their communication on social media. Increasing brand visibility through regular blog posts and participating in networking events is the next big step. Offering some valuable incentives like free trials of the products and focusing on providing the customers with an excellent service also helps the business attain a more prominent reputation. This paves the way for automatic word-of-mouth endorsement. 
Getting the right leads is vital for the success of any business. So companies should never ignore this part and contribute sufficient time, and effort in bringing in the best quality leads to make their businesses grow.