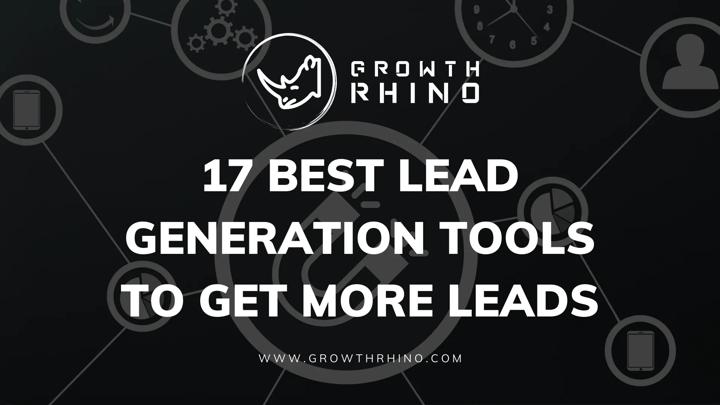 Lead generation has many folds to it. It is much more than getting your target audience to visit your website. This process involves making a target customer base interested in the products and services the business has to offer. The collection of the target's information can then be used to establish effective marketing communication. It might sound easy, but it can be a complex job without the right sales lead generation tools. So you need the help of specialized lead generation tools that can devise strategies and campaigns to bring in lead details for you.
How can lead generation platforms benefit you?
Today, companies are competing to get noticed by their potential customers, and it requires more than just professional marketers because professionals too need top lead generation tools to get things working in your favor. Therefore, having the right marketing tools will help you scale up your sales curve. 
Using these tools will help businesses by:
Targeting the right customer base
Increasing brand awareness 
Increasing brand loyalty
Collecting valuable prospect information
So here is the list of the 15 best lead generation tools that will help you nail every aspect of lead generation strategy. 
GrowMeOrganic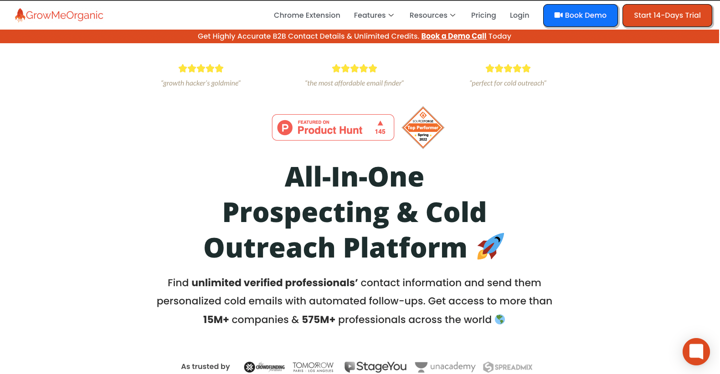 GrowMeOrganic is an email finder and outreach tool that helps to find contact details of professionals and send personalized cold emails with automated follow-ups. Plus they have some additional features like scraping Google My Business listings and more.
Airborne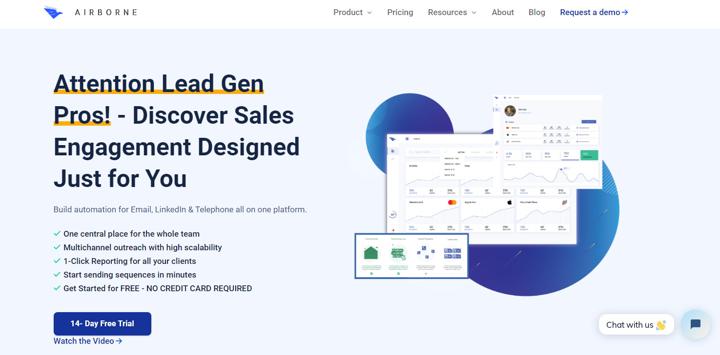 Airborne is one of the best sales engagement platform known for its action-packed features that add to the team's productivity and efficiency.
It integrates the operations of the entire team and holds assembled data on a centralized dashboard for easy usage.
Generates quick lead reports.
Offers throttled sending benefits.
Allows random sending intervals.
All in one platform for all your sales needs.
Lets you personalize your outreach across all channels
Highly efficient email deliverability options to analyze lead verification.
Allows verification of multiple email addresses on a single sequence.
Picreel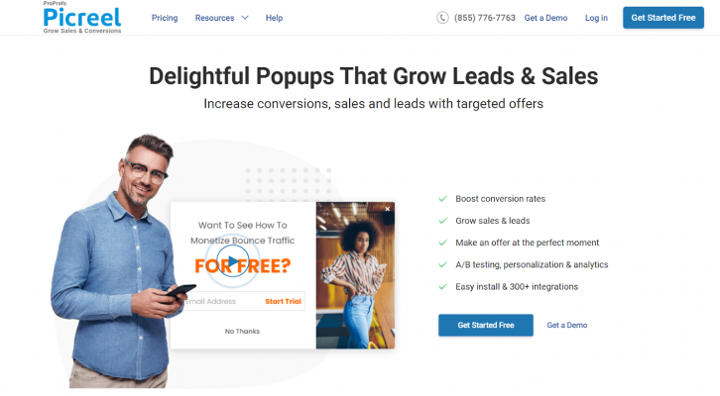 Picreel is a popular popup tool that helps you make the most of your existing traffic, get more leads and boost conversions. Its exit-intent technology targets visitors with the right messages at the right time, just when they are about to leave. This increases your chances of conversions. 
100+ ready-to-use templates to beautiful popups ready in minutes
A/B testing to compare popups and find what works best for you
Advanced targeting options display relevant and well-timed popups to the right audience
Analyze your popup campaigns and their performance with built-in reports 
Personalize popups using data such as users' basic information and the products they are interested in
700+ integrations with CRM, CMS, marketing, and social platforms for a delightful experience.
Hunter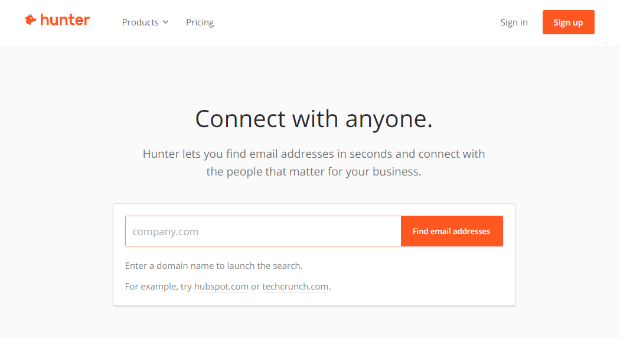 Hunter has always been a very professional B2B lead generation software that helps businesses quickly access their leads' email addresses. Some of the most significant benefits of this tool are:
This simple tool can be used by typing in the name of the person and their company you want to derive the email address for.
It also gives the privilege of searching through the address database for an entire company.
This lead generation platform can process 100 initial email search requests for free.
Offers highly affordable plans that start at $39 a month that can process 1,000 email requests.
Hubspot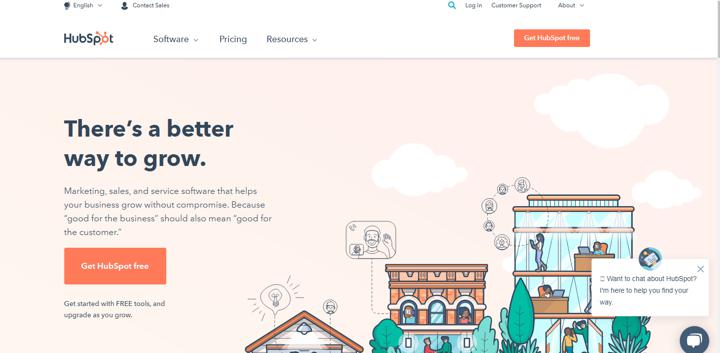 It is one of the most popular and best lead generation tools. It can take care of all lead-related queries for almost all the SaaS companies and marketing agencies.
It has multi-integrated CRM platforms.
Instantly schedule contacts, blog posts, create landing pages, new lead search, and much more.
Highly customizable service that is user-friendly.
Create personalized ads directly on the active network.
Offer great tools for driving results at every step.
Built-in analytics and reporting to keep track of everything.
Allows lead generation through HubSpot CRM, HubSpot Sales, and HubSpot Marketing.
Free trial plans available for all of the three platforms.
ProProfs Chat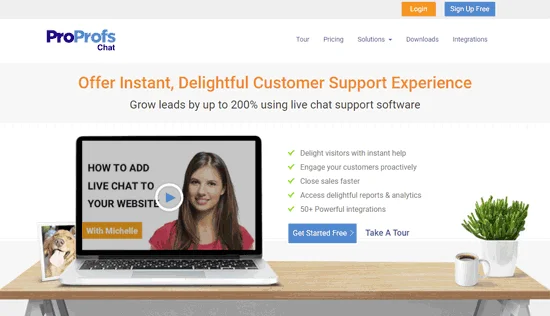 It is a certified lead generation platform that guarantees a lead increment of 200%. In addition, it has a rather unique way of capturing leads. Their lead generation efforts include organizing chats, surveys, and quizzes.
The above methods are going to bring in basic information about the targeted leads.
The data needs to be filtered as per the business requirements and can be customized likewise.
These leads can then be integrated into various marketing campaigns.
Quizzes are tailor-made that evokes leads to participate.
Lets you customize emotive images, positive results, and share buttons for quizzes.
Integrates results with Salesforce, Google Analytics, MailChimp, Zendesk.
Ensures high growth of mailing lists within months with authentic and valid details.
Pipedrive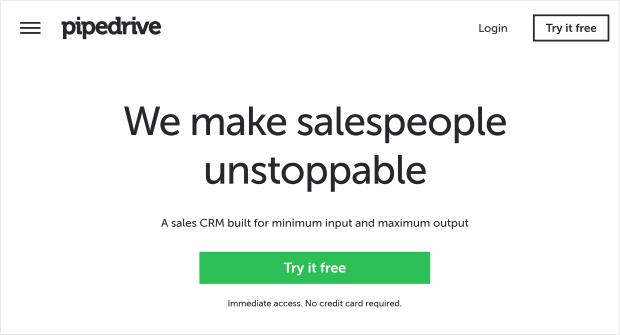 Pipedrive is another excellent lead conversion software. It has a real-time interface with simplistic usage benefits. This tool has gained popularity mainly because:
It is an automatic sales lead generation tool that readily tracks and records all interactions.
A single dashboard for all data with detailed analytics.
The next course of action is well-defined on the dashboard.
Lets you control complex sales processes with ease.
Easily import and export data.
Offer highly customizable features.
Has four payment plans: Essential Plan for $12.50 a month, Advanced Plan for $24.90 a month, Professional Plan for $49.90 a month, and Enterprise plan at $99.
Zapier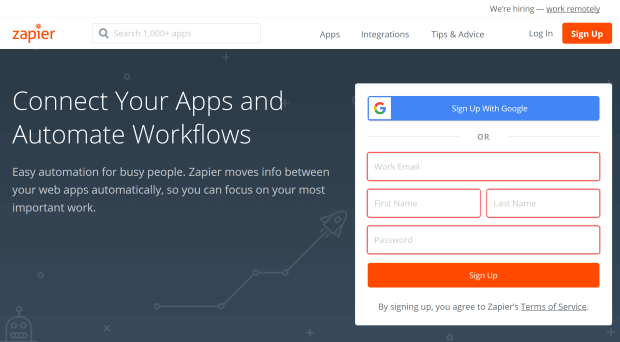 The Zapier tool is a very friendly sales lead generation platform that functions on an action on reaction basis. Therefore, any action occurring on this tool will forward an automatic response for another action to get completed.
This tool connects the business apps to automate repetitive tasks.
Allows you to register any event with the date, and the tool will automatically follow up with the leads with the emails.
It provides 99.9% uptime on lead generation.
This B2B tool secures data in the safest possible encryptions.
Excellent app support of over 30,000 app integration.
Pre-made highly engaging and exclusive Zap templates ready to use.
Plans are scalable as per business.
Multi-step Zap actions can be created with triggering actions.
ClickFunnels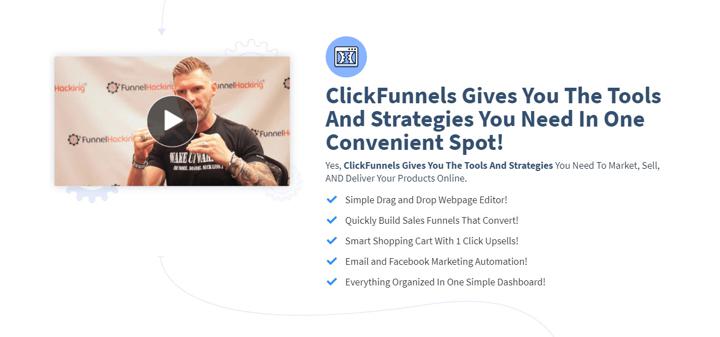 ClickFunnels is regarded as a high-efficiency sales funnel that excellently serves the purpose of lead generation for software companies. They are an all-in-one solution for ready lead generation.
Various sales funnels are provided with immense data to scrap out what is required by the business.
This sales lead tool draws out data to be used to build favorable processes and marketing campaigns.
Offers a 14-day trial exclusively.
Paid plans start at just $97 and onwards.
Leadpages
Leadpages is the best landing page builder available on the web. It is a very authentic B2B lead generation tool that comes with the following features:
The layout of this page is very well-designed for smooth navigation and automated lead generation.
The drag-and-drop builder helps you drag the leads' names to the search bar, which generates the email addresses.
It helps you create conversion-optimized pages that are A/B tested. It collects the information of the leads visiting them.
It provides high lead converting templates.
Affordable plans starting from $25 a month.
Prospect.io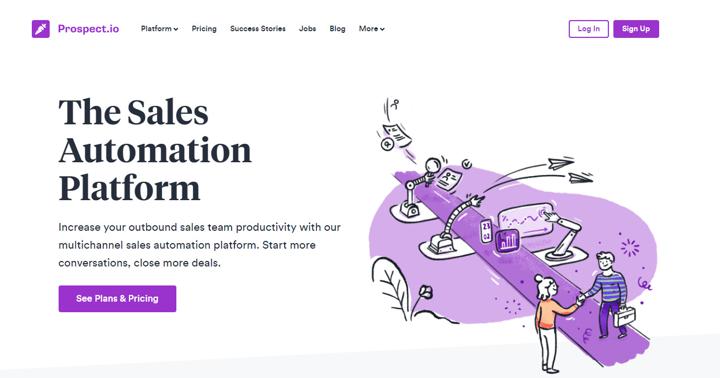 This modern-day marketing automation platform is a highly effective leads software. It is entirely integrated with Salesforce, Pipedrive, Hubspot, and Close.io.
Prospect.io has a chrome extension that enables businesses to find valuable prospects in just a click.
It can launch cold email campaigns in seconds right from the browser in use.
Lead generation turnaround time is really low, allowing businesses to focus on selling more.
The leads get verified at the backend before the businesses get them handed over.
Lead authenticity is re-checked twice.
Payment plans involve monthly and annual payment structures.
Pro plans start at $74 or $99 a month.
Packages are customizable and scalable.
Marketo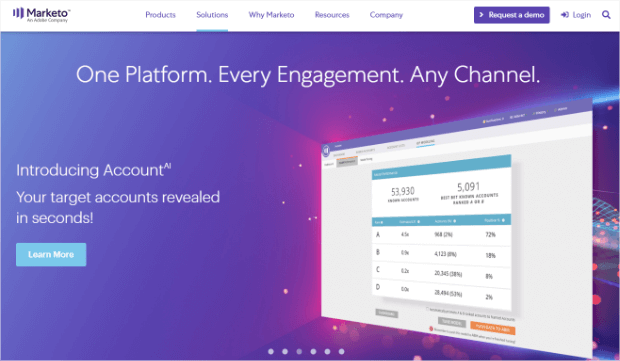 This top lead tool helps with the preceding steps before the actual sales processes begin. Businesses get to establish relationships with their prospective target customers through proven lead generation and interaction steps.
Leads are attracted through inbound and outbound marketing.
Every lead quality is assessed and verified for top quality.
The lead list is constantly updated to check the quality of the listed leads.
The tool can be accessed under various pricing models and subscription plans.
AeroLeads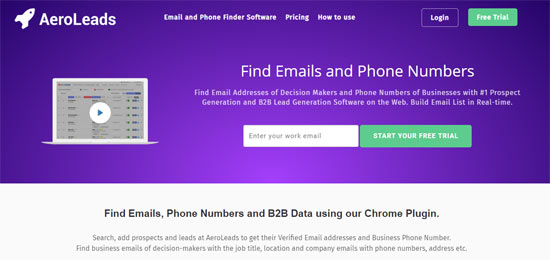 This highly adept sales lead generation platform operates in collaboration with Google Chrome.
The businesses can add Chrome extensions that help to search through Linkedin, AngelList, and other lead-rich platforms.
Allows you to create a real-time email list for sales and marketing purposes.
Helps you with verified email addresses and business contact numbers.
A free trial version can be used to begin operations.
Subscription and pricing models start from $49 a month.
ConstantContact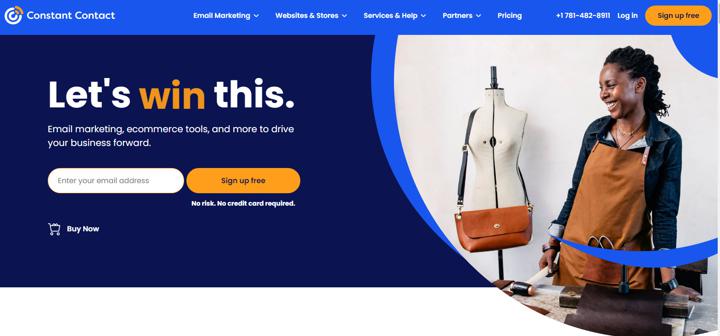 ConstantContact is a reliable email lead generation software when your lead list is huge. In addition, the tool provides a lot of support and ease of use.
Round-the-clock customer assistance.
Extensive online training to use the tool.
Webinars scheduled at constant intervals to check uniform success.
Two subscription models for email and email plus start from $20 a month to $45 a month.
Voila Norbert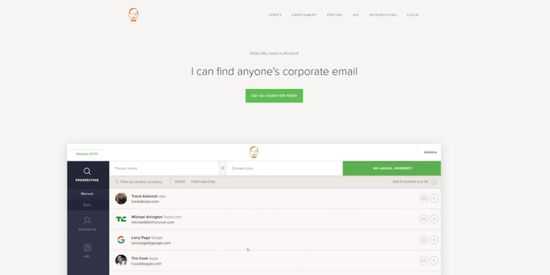 It is an automated lead generation software that can help you both find emails and verify their validity.
Bulk email addresses can be searched and verified with CSV files.
This tool integrates with a large number of CRM software.
Lets you schedule your emails and also update you when someone opens them or clicks on a specific link.
Lead generation graphs can be easily tracked.
Pricing packages start from $49 a month to $499 a month. As many as 50,000 leads can be generated with the highest subscription.
OutReachPlus

It is a multi-purpose lead generating software that works in the roundup.
Helps create personalized email campaigns that can be scheduled as per preferences.
Campaigns can go on alongside the automation processes.
Best leads are settled with for future outreach responses.
They offer a free trial on subscribing.
Their plans start from $18 a month.
LinkedIn Sales Navigator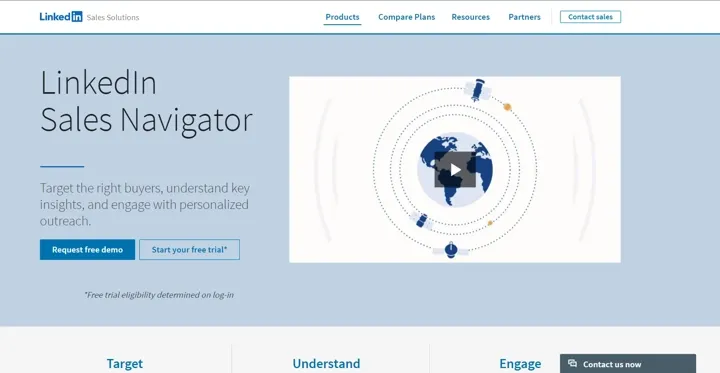 If you are looking for B2B sales leads on one of the most popular platforms named LinkedIn, then LinkedIn Sales Navigator is what you should be using for high-quality leads. It is a great tool to start with, which has been built to align well with your LinkedIn tasks. 
It helps you to target a specific group of prospects or companies, tracks their progress, and connects with them. You get access to advanced filtering options that help you find more targeted leads including their valuable specifics. 
Its Save as Lead feature helps you find all your leads at one location with all periodic updates about them. The tool also records your preferences and recommends leads based on that. 
With its powerful feature of CRM integration, you can integrate your LinkedIn account with popular CRM platforms and complete your tasks without any hassle. 
Accounts lists are an integral part of lead generation, and the tool enables you to build a custom accounts list and provide crucial insights into their activities. For instance, LinkedIn Sales Navigator alerts you when a particular lead changes their job or industry.
Its InMail feature is the best for effective lead engagement as it lets you send private messages to your prospect or any other LinkedIn users. 
You get a free trial for a month. After that, you can choose from three options; Professional plan starting at $79.99, Team plan at $108.33, and Enterprise plan. All these plans unlock extensive features and high-end search options for better lead generation. 
Qualaroo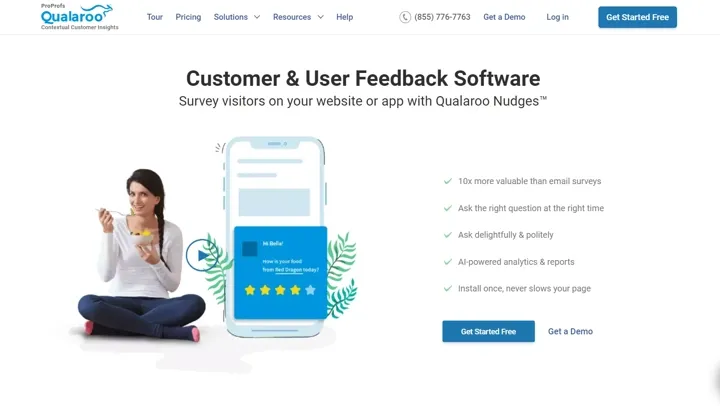 There is only one solid way to learn about your target audience and it is by researching and studying about them and their whereabouts. However, the best information can be gathered when the audience speaks for themselves. This is where Qualaroo streamlines things for you. 
It is a powerful online tool that helps you create robust mini customer surveys, which contain questions to collect valuable information from leads and accounts. 
It lets you customize nudges with your company colors for a native feel and allows you to create professionally designed templates and questions.
It offers advanced targeting.
The tool maximizes the value of your website visitors and empowers the marketers with the right information about these visitors.
It targets prompts by demographics, user behavior, and other specific needs, and provides you with all the necessary insights about your prospects. 
You can create great-looking lead gen forms with this tool for better customer engagement.
The tool puts up surveys or questionnaires in the form of pop-ups on the website screen. The most common example is a chatbot that asks you several short questions, which generally have a CTA or Call to Action for determining your next step. 
It can easily integrate leads with your marketing campaigns.
The tool lets you collect emails respectfully.
The tool is available with a 15-day trial period and a demo test. You can choose from its monthly and annual plans. The monthly package costs $100 per month while the yearly plan comes at $960 per year.
Conclusion
The above-mentioned email leads generator software will help you get your list popping with verified leads. The conversions will readily start to increase, and so will the sales. These lead automation tools act as a bridge between marketing communication and the efficiency of the salesforce. With these proven tools, you can amplify your lead list in very simple yet affordable ways and that too without any hassles.