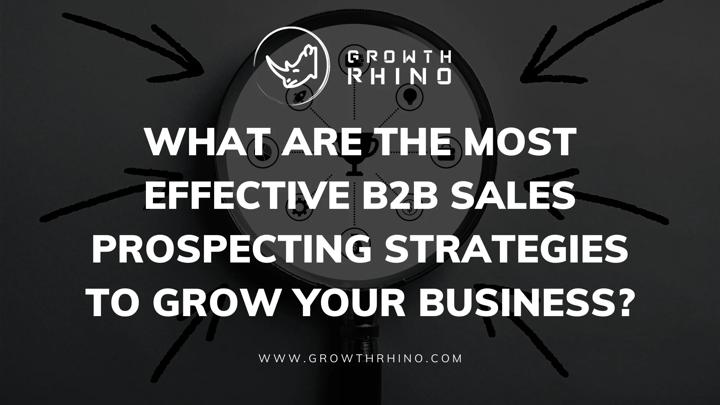 Do you ever find yourself struggling to find the right B2B sales prospecting strategies? I am sure a lot of business owners and marketers do! Without an effective strategy, you cannot get in contact with your ideal customers, and it can be hard for your company to grow.
In this blog post, you will learn the top 6 prospects that can help foster growth in your organization—even if you're just starting out from scratch.
But before we get into that, let's examine what B2B is all about and why B2B sales prospecting is so important to grow your business.
What Is B2B Sales Prospecting?
Business-to-business sales, or B2B, is the process of transacting with another business. This process includes the following: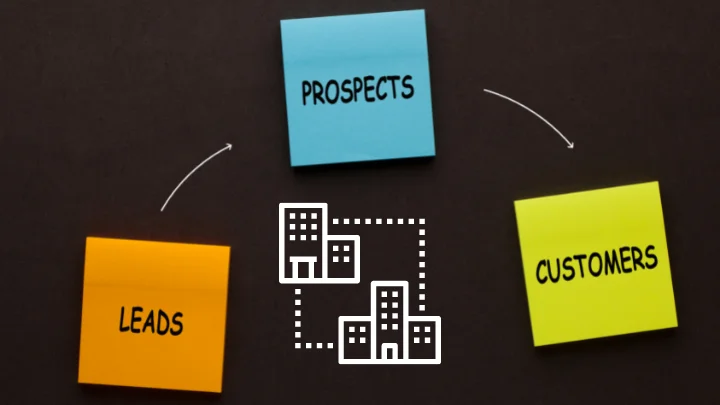 Identifying prospective clients and their needs
Finding ways to connect them with your products or services
Closing deals that result in an exchange of goods/services for money
B2B prospecting is a process where you identify the right buyers or call prospects and reach out to them with various outreach tactics and eventually turn them into your customers. Outreach can be done in several ways, such as through cold-calling, email marketing campaigns, content marketing, or pay-per-click advertising.
The Importance of B2B Prospecting:
B2B prospecting is vital for the success of any business. "Sales" are the lifeblood of a company and are definitely crucial to a company's success. B2B prospecting helps keep your business healthy. Here are several reasons why B2B sales prospecting is important.
1) Consistently Fills the Pipeline:
B2B prospecting provides high-quality opportunities to fill your sales pipeline. Prospective customers are always searching for services and products, which means that you'll be able to find potential clients without even trying!
2) More Effective Outreach:
B2B prospecting ensures that your messages are delivered at just the right time, to the right prospects, and in an appropriate channel for maximum effectiveness.
3) Quicker Qualification:
B2B prospecting enables you to eliminate prospects who would not benefit from your products or services.
4) Accelerates the Sales Cycle:
Effective B2B prospecting makes the sale process go faster, which makes it more productive. It also leads to more closed deals.
5) Improved Lead Quality:
B2B prospecting is a way to get high-quality prospects to sales. Doing this will increase your conversion rate.
6) More Targeted Content:
B2B prospecting insights help to create better, more engaging, and more relevant content.
7) Better Marketing Campaigns:
B2B marketing brings together all the marketing disciplines. This type of marketing teaches how to be successful at marketing.
8) Attracts More Customers:
B2B prospecting means that you reach more potential customers as quickly as possible and let them know about your brand.
Account-Based Prospecting Strategy: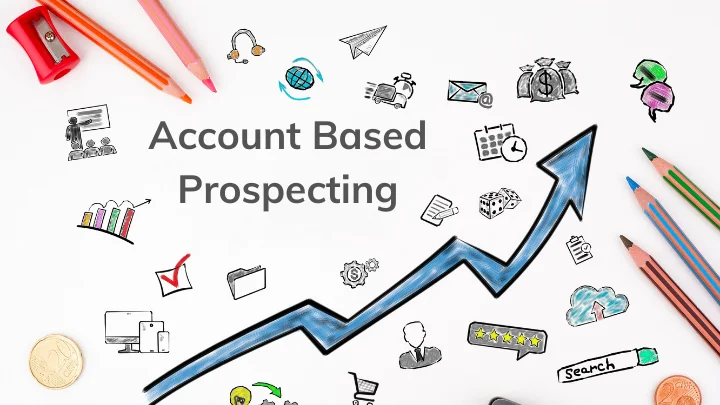 What is an Account-Based Prospecting Strategy?
An account-based selling strategy means that you treat each company as a market of one. This means that you target or focus on companies, not people within the company, for your sales.
It is different from a lead-based strategy, which targets individuals at the company. In an account-based strategy, you try to identify companies that may be interested in what you are selling. You also want to create a list of target companies and then find ways to reach them and persuade them that your product or service is a good fit.
Is Account-Based Selling Effective?
Account-based selling is a good idea because it addresses the needs of the buying committee. This type of selling strategy can help you provide personalized content that is tailored to the needs of your prospects.
The Benefits of Account-Based Selling:
Going after high-value accounts is good. You know they will be successful. You should go after the companies that will be interested in your product. If you work with a company, you can make more time for research and personalized messages. You will learn about the company and sell to them better.
Another benefit is that when you use the account-based approach, you have less risk. If someone changes jobs or goes on leave, it won't affect your deal as much because more people are involved in the decision to buy.
Best B2B Prospecting Strategies: 
Prospecting is important for any business. You need to make sure you are going after the right people and not wasting time on people who don't want to buy from you.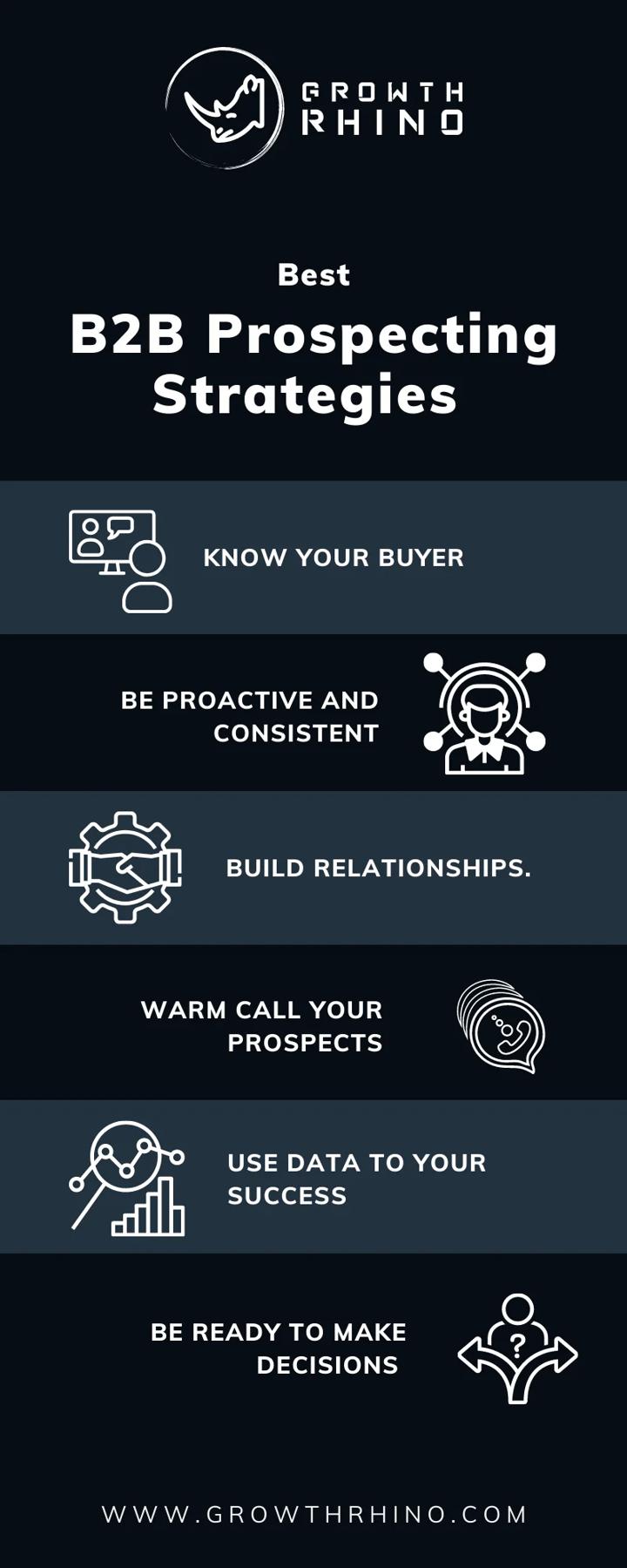 The following tips are few of the most effective sales prospecting strategies for modern sales organizations.
1) Know your Buyer:
If you don't know your target audience, how can you find the right way to sell to them? The best way is to really know them. If you don't understand who they are and what their interests are, then it will be difficult for you to find a good sales strategy.
Understanding your target audience is the key to successful sales. To maintain success in sales, it's vital to understand the needs of your audience. Without a deep understanding of your target audience, you won't know what they want and will be unable to sell to them.
A data list is the most powerful tool for B2B sales prospecting. You will use it to find prospects. A buyer persona is like a person's profile. It tells you things about them, like their age and what they do for work.
These are lists of people who you think would be interested in your products. You need them if you want to know who your potential customers are. Your company should have a set of buyer personas that each team member knows. If you haven't created any buyer personas yet, make that the first thing you do.
Think about different people who have the most success with your product. What is their job? Why do they buy it and how do they go through your store? Use this information to create your buyer personas.
2) Be Proactive and Consistent:
It can be hard to do sales prospecting when there are no sales. But you need to keep doing it if you want a full pipeline of people. You must do it every day if you want to have a lot of customers.
It is no longer enough to rely on your marketing team to find you, buyers. You need to go out and find them yourself. Set a goal each day for how many people you want to talk to.
How many calls should you make a day? How many emails should you send? You can set up a process to help with prospecting. It will be easier if it becomes something that is routine. If you establish a process that works, it can help you get people to buy. This will help you avoid a shortage of leads or money.
3) Build Relationships:
Even after you've made a good sales pitch and contacted the right people, you might still get rejected. But don't give up if they say no. Instead, develop a plan to help these people. One way is to give them time. Instead, you should make plans to get these people to buy. Make them want it!
An important thing for a seller to do is to understand why the person who you are trying to sell didn't buy it. The key to building a relationship with someone who said "no" is to find out why they did not want your thing.
It is possible that when someone says no, they really mean not yet. You need to take the time to understand what is bothering them and what you can do to change this.
When someone says "no," that often means they are not sure yet. You may want to ask them why they did not want your product or what the problem is. Then, develop a strategy to communicate with this person. Aim to be helpful and not too pushy.
4) Warm Call Your Prospects:
Before picking up the phone, it is important to know your prospect well. We recommend not cold-calling prospects, it will make them angry. It is best to do a warm call to your prospects after getting to know them.
If you tell people about your business before you call them or send them an email, they are more likely to buy from you. You can ask for a referral or be introduced by a mutual contact. If this doesn't work out, build the connection yourself by talking to your prospect on social media.
What type of person is the buyer? What are some of their problems? How can you solve their problems? Are any other sellers trying to sell to them, too? The more information you have, the better you can find out what your prospect wants.
This is a good way to keep the people on the phone. They might even schedule another meeting or buy something. This exponentially increases your chances that not only will they stay on the phone, but they might even offer another meeting and increase your chance to make a sale.
5) Use Data To Your Success:
Data might be the most important thing to have in mind. It's important that you use data in your B2B prospecting campaign because it will give you insight into how your prospects act with others as well as themselves. In B2B, making a purchase is an investment and you want to make sure that it goes as smoothly as possible.
Boil it down to the basics: you need to know who your prospects are, why they will be interested in meeting with you, and how likely that prospect is going to buy from you.
In order to do this, you need knowledge of the following:
Who your prospect has been in contact with
Done business with the past year
Who do they purchase from or work for now?
And what type of industry they are in
This will make it easier to find out more about them, what they're interested in, and also find out what their buying process is. If you know this information, then it will also be much easier to tailor your content and marketing message to suit their needs. This will make your prospects more likely to open up the door for a conversation with you. And if they don't want to have a discussion at that time, there is nothing wrong with scheduling another engagement at a later date.
The key to a successful B2B prospecting campaign is understanding what your customers want. You should find out who they are, where they work and which industry they belong to. You can do this by researching their social media profiles or looking at previous things that the prospect has done in the past. The more you know about them, the more you can tailor your content to their needs. In B2B, you need accurate data of customers. You need this so that you can give people the experience and service they want.
6) Be Ready to Make Decisions:
It's okay to try different ways to find a new customer. Some people might not like what you do. But another person might want what you offer. It is okay to keep trying new things until you find something that works for everyone.
Try different ways and measure the results. Use this information to improve your strategy. It's important to have a good plan before you start something new. To sell your product, you need a lot of prospects. The best way to have a lot of prospects is to ask them questions and listening for what they want.
Use these tips to get better at your sales prospecting. This will help you do better than before. Remember the tips and best practices above to stay on top of your B2B sales prospecting efforts. You might be able to triple your numbers if you do them all!
5 Common B2B Sales Prospecting Methods:
Here are some common sales prospecting methods to gain success in B2B sales. Sales pros can use them to discover potential customers and identify if they are qualified for their business. 
1) Cold Calling:
This is one of the most successful B2B prospecting methods if used correctly as it lets you have a one-on-one conversation with your potential customers and feels a bit more personal. Through this method, a business can reach out to consumers who have not expressed any interest in the business' offerings yet. They might also have had no prior communication with the business. The cold calls help businesses to maximize their reach and must be targeted to the group that qualifies as the target market.
2) Referrals:
Referrals are when a prospect approaches a particular business after hearing from a friend or an acquaintance. This is the perfect swing to convert them as your customer. These referrals are already here through recommendations and are already pre-qualified. They are well aware of your business offerings and how this would benefit them.
3) Email Prospecting:
This sales prospecting method is a convenient communication method and has become pretty important for sales teams all over the world. This helps the teams to not only improve their daily messaging skills but also helps them reach a bigger and better audience. There are multiple ways to approach the prospects via email but the chances of capturing their attention are low. Therefore, you must be conversant with the emailing tactics to ensure your emails get opened by potential customers and do not land in the trash folder. Make sure you have done robust research before your email approaches them.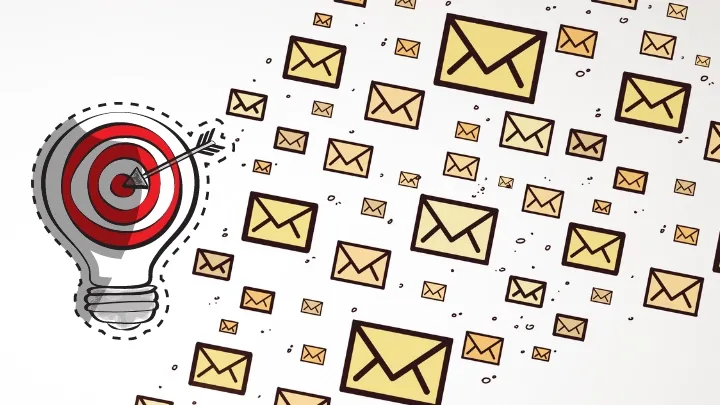 4) Event Prospecting:
This is a great way of prospecting new clients as after a business makes an appearance in events like trade shows or webinars, you get to meet your prospects first hand. You can also interact with them directly. Delivering value becomes easier in terms of clearing queries, providing educational information, or showing off a demo. 
5) Social Selling:
With the emergence of social media, social selling has become one of the most creative ways to reach prospects. The platforms have made it easier for the B2B sales teams to talk directly with the decision-makers. LinkedIn, Twitter, and Facebook are the leading examples of this concept. This creates immense opportunities for the teams to craft highly targeted and personalised messages to engage directly with the prospects. They can better understand the business if the engagement is right.
Conclusion:
With the right strategies, B2B sales can be a powerful way to grow your business. Prospecting is more than just making a transaction; it's about identifying and targeting potential buyers with the right messaging that will resonate with them at different stages of their decision process.
For a business in the B2B sector, it is important to keep on prospecting. If you don't have new leads then your sales will not grow. These methods and strategies will help your business always have qualified leads coming in and make sure that your pipeline is never empty.
If you want help implementing these principles or need any advice in general, don't hesitate to contact us! Our team has helped hundreds of businesses like yours get off the ground through successful marketing campaigns so let us know what we can do for you today.
What are your favorite B2B sales prospecting strategies?