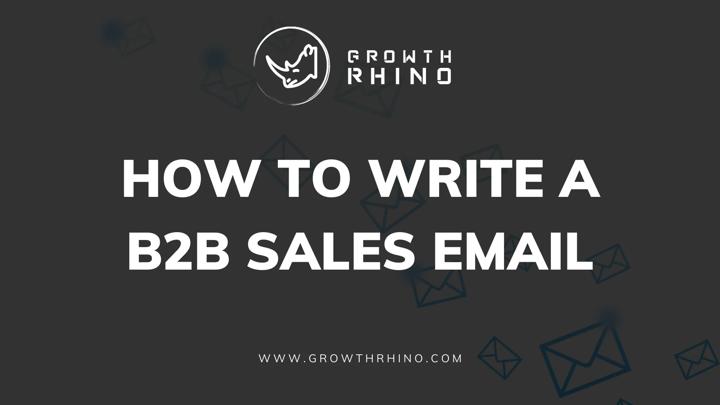 It can become irritating for anybody when they open their inbox and get crammed with hundreds of emails. Most of these are ignored. Only very few may catch our attention. But have you ever wondered what makes those emails that catch our attention stand out? Many recipients even go out of their way to respond to these emails. Today, in this article, you will learn about why and how some emails stand out and some end up unopened and ignored.
There are ways to craft beautiful sales emails that drive responses from the targets. Certain aspects of writing an effective sales email can affect those emails to have a higher open rate and a lower bounce rate.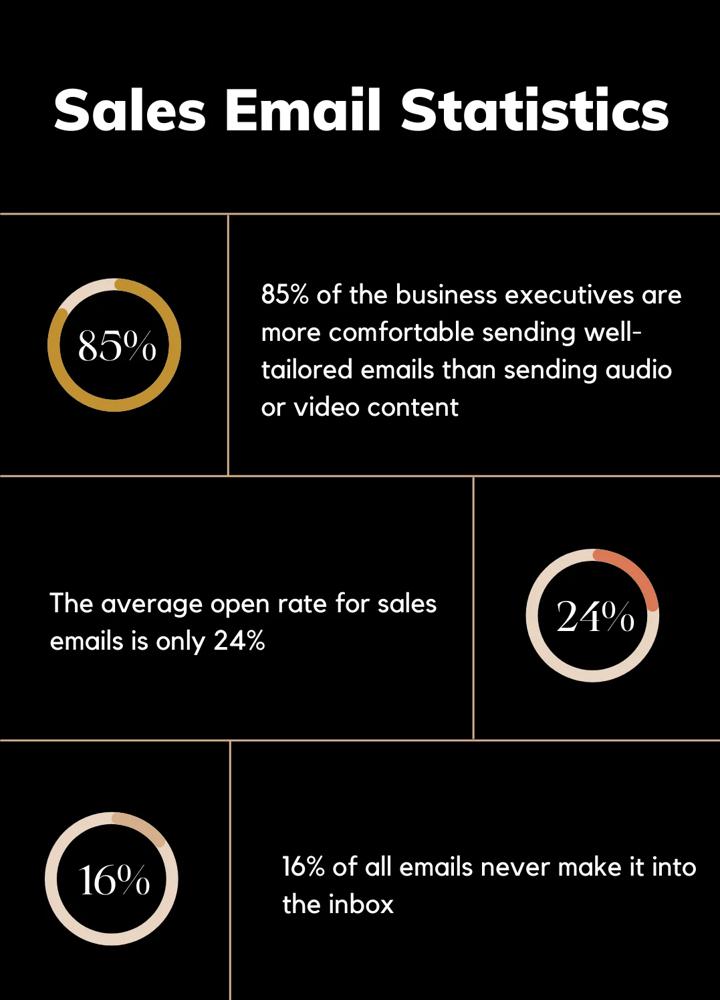 As 85% of the business executives are more comfortable sending well-tailored emails than sending audio or video content, writing a B2B sales email has become ever more important to businesses.
With that being said, the average open rate for sales emails is only 24%. So to up your game in crafting the best sales emails, this article is dedicated to helping you write the perfect sales emails. 
What Is a B2B Sales Email?
A B2B sales email focuses on organizations rather than individual customers who may be prospective clients of the business. This is a great way to set a tone after a successful B2B lead generation program. The ultimate goal of these emails is to communicate the main value of the service or the product the business is selling, and this way, the customer gets to know about your products and services instantly. These emails should be written in a professional and respectful way that encourages the prospects to delve into further communication with the business. B2B sales emails have one objective in mind: to draw the attention of businesses and drive it around data, results, and statistics.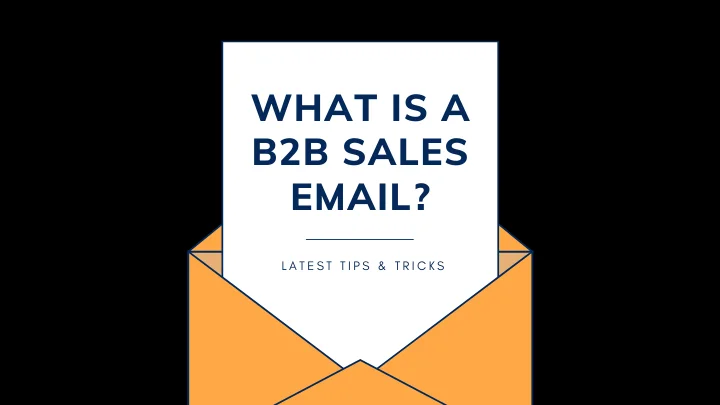 They take on hyper-realistic industry pain points and seek to offer the recipients feasible solutions to these points. Sales emails measure the business's experience and expertise, helping to convince the prospects to get further down into the sales funnel and proceed toward building a long-lasting association.
Important Components to Consider While Writing B2B Sales Emails:
Once you know what these B2B sales emails are, it is necessary to understand how to write B2B emails. Here are among the critical components of a B2B sales email that can determine success or failure when it comes to your lead generation. You need to keep these in mind when crafting your sales emails. 
1) Subject Line:
This is the highest point of concern for any business writing a sales email. The right subject lines in a sales email will help it stand out from any other average email, leading to higher open and reply rates. Ideally, you can personalize the subject so it does not immediately sound like a sales pitch. If the emails are written creatively, it drives the recipients to open the email and read them.
Write subject lines like a real person, or personalize: Any email written by an email automation tool will reduce your open rates and make the recipients lose interest in your business. This also indicates that you are not serious about the collaboration and are sending the email just as a formality. Even if the business is writing it, it is best to keep it short, simple, and without too many distracting punctuations. The B2B email subject lines must not indicate that the email is taking the recipient to some fancy newsletter.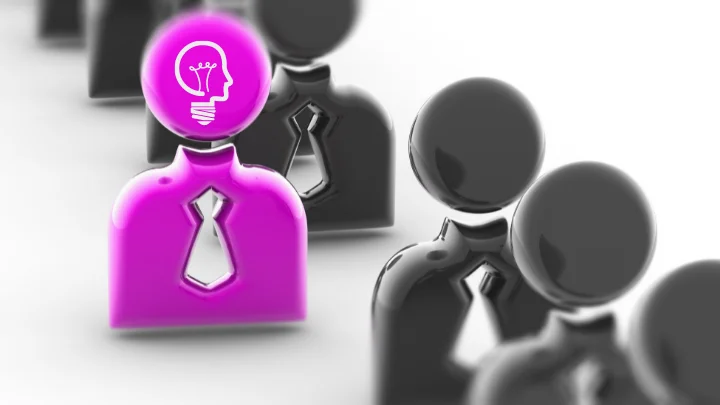 Avoid catchy slogans: Catchy slogans are indications of spam emails. Hence, it is wise to avoid writing slogans in the subject line. Your business email should be as professional as it can be. Therefore, always write the lines like an actual person would.
Don't capitalize each word to attract attention: This is a wrong move, and the entire email would look like a marketing broadcast. This would also imply that the email was sent on a mass scale, and there is a lack of personalization. The email rates can be significantly increased by using regular capitalization, like your regular, day-to-day email, instead of writing it all in uppercase. 
Ask a question in your subject line: This point is to make sure that you are not baiting the recipients. When you are asking the right questions, your open rates are bound to increase. The structure of the question must be followed by and develop into a normal conversation in the email body. Also, avoid using multiple questions. Overuse of punctuations, specifically question marks in this sense, is how you fall into the spam folder or the promotions tab.
Here are some examples of good sales email subject lines. These email subject lines have been tested on thousands of prospects and are proven to have consistently high open rates. 
"Quick request."
"Trying to connect."
"[Name of the company]"
2) Opening Lines (How to Start a Sales Email):
This is the first question that you ask yourself before drafting any email. The biggest query remains in determining first if you want to address your prospect right away on a first-name basis. You can also try a more formal approach by adding a Mrs. or Mr. in the opening. If you are confused about this, you can start by understanding your customer's profile and consulting with your team to understand if your approach is right. This can also help you build a better relationship with them.
Opening lines should follow up on the subject line: You can have interesting subject lines, but if the following opening lines do not live up to the promise of the subject line, the recipient will be immediately disappointed. You also need to try avoiding phrases that marketing automation software typically use. You can highlight the reasons or the context of why you are emailing them in the first place. This way, you are taking meaningful steps toward building trust and credibility. It will then take a natural transition into your sales pitch, and the progression will be smoother moving forward.
Your opening should be brief: If you are writing an email that has a long opening, your prospective business will lose interest after some time. Instead, start with a quick compliment or greeting and jump right into why you are sending them the email.
Here are some samples of good opening lines for B2B emails. These sample email opening lines will help you build credibility and trust with the recipients and resolve all your doubts on how to write B2B emails.
Formal Approaches:
My name is [name], and I'm associated with the [company name]. We work with organizations like [name] to [insert a pitch].
Hope this email finds you well.
I hope you enjoyed your weekend.
Thanks for the quick response.
Allow me to introduce myself.
Good morning.
Good afternoon.
Good evening.
Relaxed Greetings:
Thanks for the prompt response.
Thanks for your help.
Thanks for getting in touch.
Thanks for reaching out.
Following Up:
As discussed...
As per our last conversation...
I'm just checking in about...
Can you provide me with an update on...
3) Body and Pitch Delivering:
Before you start writing your pitch, think deeply about what you want to achieve through this email. If your goals are clear, you will be able to craft content that will connect with your prospects.
Give details: Your opening lines must state and define your credibility as a sender, and the details about your company will build confidence in your recipients. To leave a deeper impact, start giving details right from the beginning of your pitch. 
Outline the pain points and benefits: This is the most relevant thing you can write to your prospect. This can be your elevator pitch that will sum up the details about the products and solutions in just one sentence, sparking their interest in your products and services. 
Demonstrate your concern: This is beyond any elevator pitch. By doing this, you can summarize the entire set of benefits to the prospect's specific use case. You can pull it off in a relevant, well-crafted fashion, using bullets and numbers to make a much better impression.
Here are some examples of great pitches that you can use in your b2b sales emails:
Hey, [Name],
[My company] has introduced this new platform that will prove to be very helpful for [their team] at [their organization name]. [Pitching the benefits]. These are mostly done by our organization through [benefit 1], [benefit 2], and [benefit 3]. 
It is going to be a great fit for your team and the business and will help you reach your goals sooner. I will be happy to explain this to you in detail. Could you spare me a few minutes of your time sometime this week?
[Your closing salutation]
[Your name] 
4) Closing Statement and Call-to-Action (How to End a Sales Email):
The motive of any sales email is to end it on a positive and simple note and drive your prospects toward the CTAs. If the prospects are not driven toward that, your email campaign would have been a failure, and you cannot curate sales emails that get responses. You need to establish a good relationship with the prospects and help them through a step-by-step guide into the sales funnel. That can only happen if they are interested in knowing more about your business. With the right guidance, you need to add a strong call to action (CTA) at the right time as well. This will ensure that the prospects would respond to you well until the end of the sales process.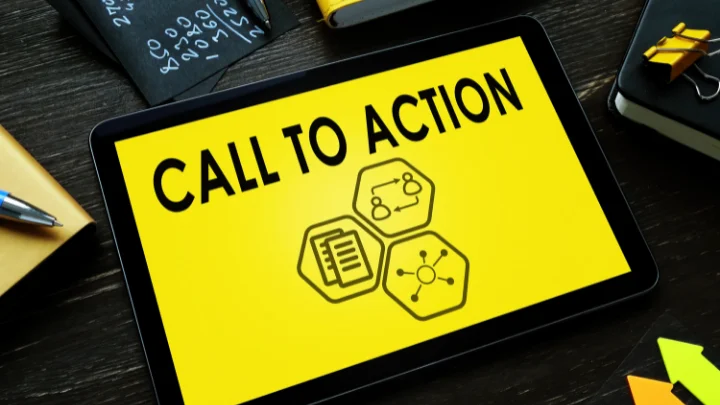 There are some mistakes that you need to avoid with B2B sales email CTAs. You are sending the emails in the first place because you want the prospects to take suitable actions. You can also use the emails to help them set up an exploratory call, book a demo, start a free trial, or even ask them to sign a contract. But if they do not have a clear idea of the actions that they should take after they read the email, your campaign has failed.
For a successful B2B sales email campaign, here are certain mistakes you need to avoid while you are writing a B2B sales email:
Having a confusing CTA: If you do not let them know about their ideal action, they will be unable to act as per your expectations. Add a clear CTA at the end of each sales email.
Adding multiple CTAs: The more CTAs your email has, the more confusing it gets. It also lessens your chances of building a concrete conversation with the prospect. 
Your CTA is not specific: Your recipient will not reply to you if you have vague CTAs. They are probably not going to read the entire email or are not going to take any action afterward. Before they close the email, you should give them direct instructions on what they should do next.
Having obscure CTAs is just as beneficial as not having them at all. Your CTAs should be well focused on deriving results, and they should not be aggressive or have too much jargon in them.
Here are some examples of high-converting sales email CTAs:
"Is it fine for you if I contact you again next Tuesday at 11:00 a.m., or Thursday at 4:00 p.m., for a 15-minute discussion?"
Let's start a new project together.
Do you resonate with any of the points we made here?
Would you be interested in having a quick call next week?
What do you think about our latest case study?
5) Sales Email Signature:
Your signature is a precious piece of communication that you can share with your prospects. It is usually underutilized in email campaigns but is a great tool that you can use to further sell your products and services to your prospects.
Demonstrate how you work: You should not wait for your prospects to ask for a case study from you. You must include a link to how you work. Showcase your workflow and your tools. You can also demonstrate your problem-solving skills and thus generate trust and secure replies from their end.
Tell them something about yourself: It is always better to let them know who you are. You can include articles and press releases about your company that have been published around credible sources. It will help you illustrate how competent you are. Also, add a signature at the end of the links.
Make use of social media: If you are active on social media, try showcasing that. If your account has unique, educational, and informational content, come forward and share it in your email.
Show expertise: If your company arranges webinars, you can attach the links to the most recent ones. This will inject more value into your offer, and you will appear to your prospects as a knowledgeable team.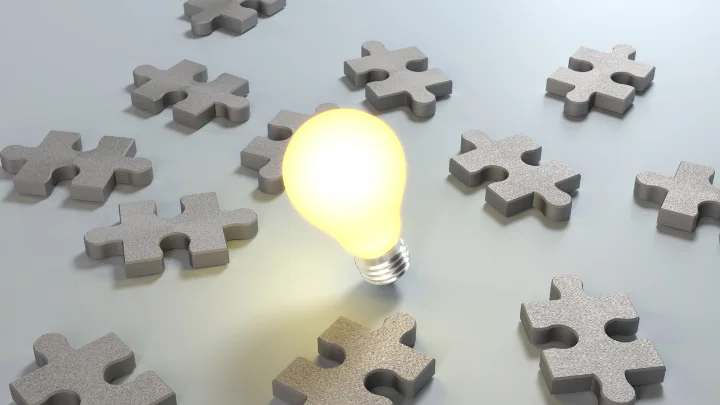 Examples of the best sales email signatures:
Add your name with a face.
Add your social profiles to show credibility.
Showcase your content in your email signature.
Promote your awards, honors, and mentions.
Creatively add colors and fonts.
Share your publications.
6 Best B2B Sales Email Templates:
1) The AIDA Formula Email (Attention-Interest-Desire-Action):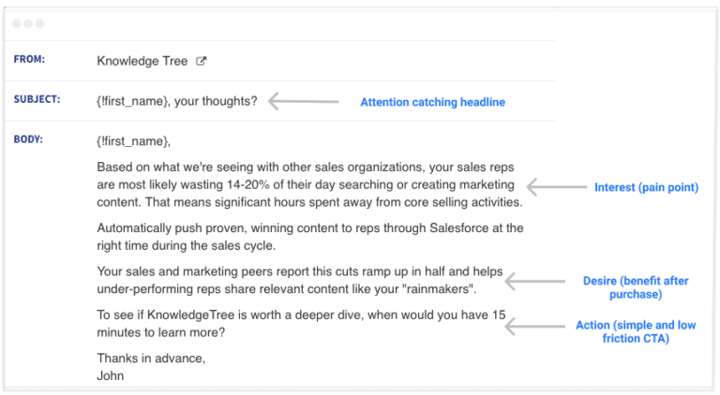 You can quickly and easily grab your prospect's attention through this email template. This kind of email approach will always land you in the Primary inbox folder.
2) B2B Email Template for Finding the Decision-Maker in the Company:
This kind of email will have the specific reason for your outreach listed clearly. Hence the recipients will be intrigued to open and read it.
3) B2B Email Template to Build Rapport: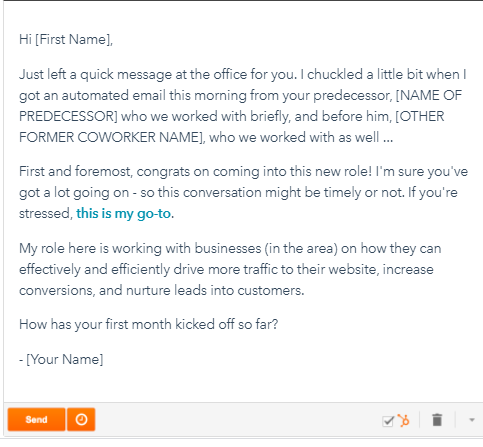 With this kind of email, the prospect will believe that they are well-researched by the company. They will be genuinely interested in engaging with you and taking the relationship forward.
4) B2B Email Template to Establish Value: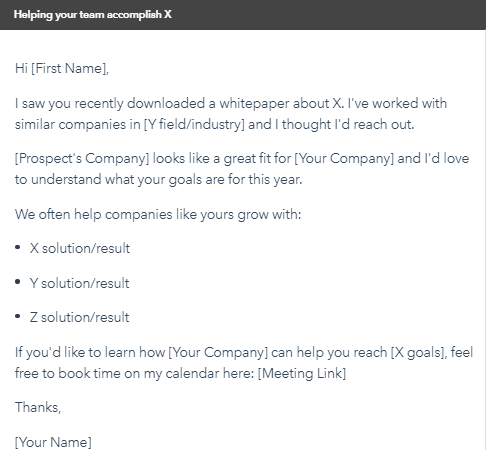 Through this template, you can clearly explain the benefits that your product can provide over others and help the prospect decide in your favor.
5) B2B Sales Email Template to Book a Meeting: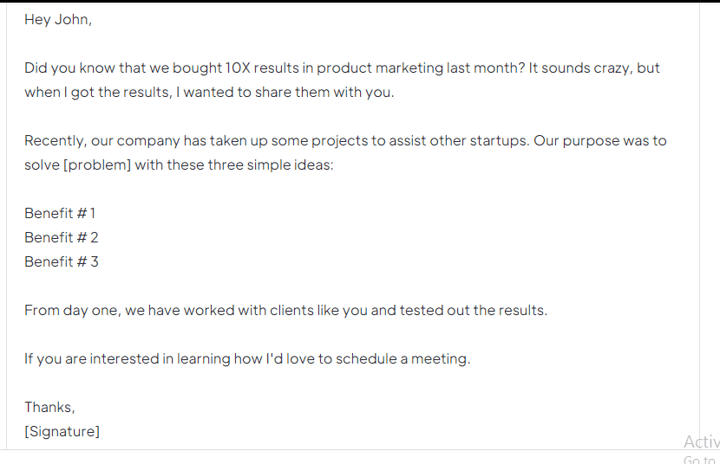 You cannot always explain the point of meeting them through texts, so a well-crafted email would serve your purpose for a meeting better.
6) B2B Email Template for Free Trial Feedback: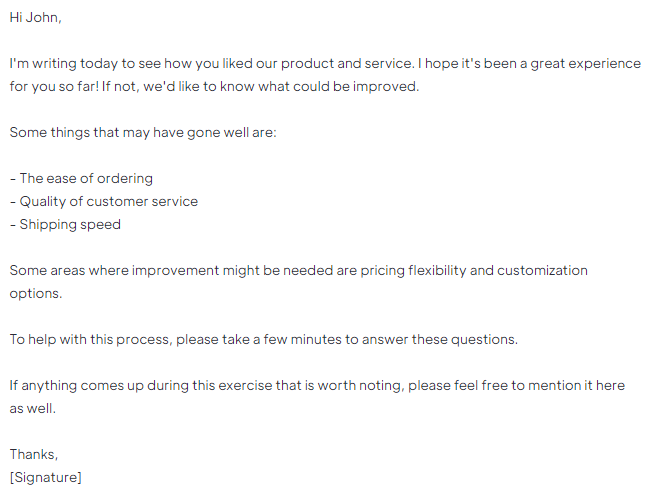 This email can explain how good your product is and initiate genuine feedback from the client's end.
Conclusion:
The process of B2B sales email writing is not rocket science. It all requires practice and understanding to master the art of writing effective B2B sales emails. But with our guide above, you can now quickly learn to write sales emails that work. Try and improvise until you get your desired results. You need to constantly check back with your goals and change the way you execute your campaign. With time, your sales communication is bound to improve, and you can see a significant rise in your sales figures.