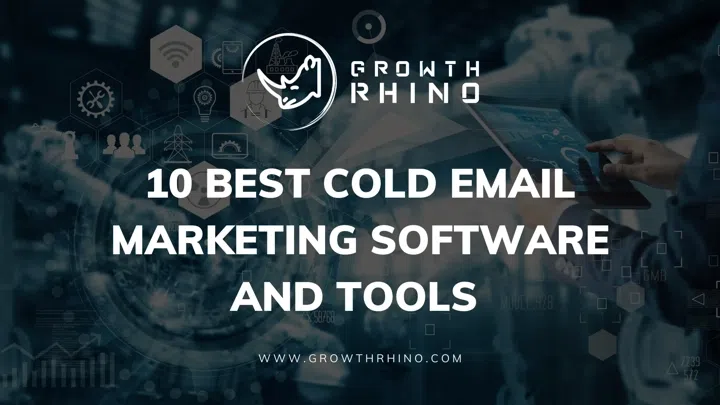 Prospecting for a new client is more challenging than keeping an existing client. You will never know whether you will ever get a reply. Your emails have to deal with the consequences of being ignored, labeled as spam, or not opened at all because you have no relationship with the prospect previously. And no matter what the reasons your campaign is failing are, you still invest in a cold email strategy.
The good thing is you don't have to go through the manual effort of sending those emails. Cold email marketing tools exist to help you streamline sending bulk messages.
And the best part is, most of these tools can help you monitor your open rates and see who among your lists are warming up. Another thing you can avoid using these tools is getting your messages to fall into the spam folder.
But before we proceed to our recommended cold emailing tools, let's get back to the basics.
What Is Cold Emailing?
Cold emailing is sending unsolicited messages to recipients without prior acquaintance or contact. Take sending a message to a stranger as an example.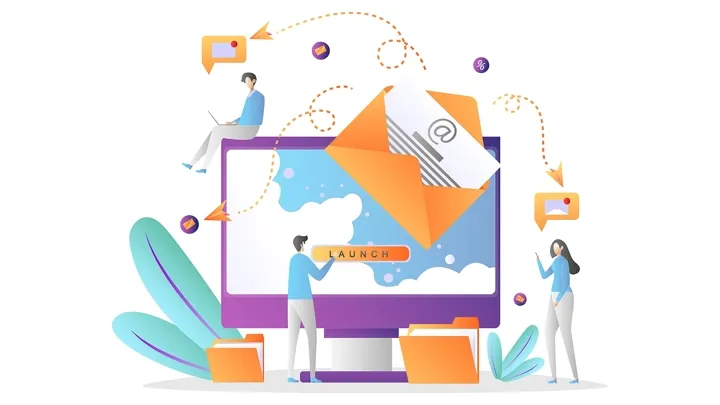 Businesses use this strategy to inform people of what they do or offer. By sending out cold messages, they get a chance to acquire new clients.
While many people may say that cold emailing is spamming, it is not. Cold emailing is the process of introducing your products or services through email, aiming to find specific people or businesses that may be interested in your products or services.
However, cold emailing can be both repetitive and tedious. You need to automate these tasks to focus on other strategies. So if you are looking for the best cold email tools, we have shortlisted them for you.
10 Best Cold Email Marketing Software and Tools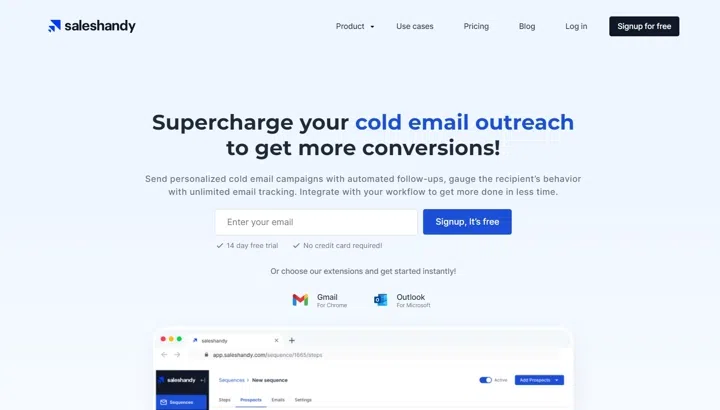 Rather than being only a dedicated cold emailing tool, SalesHandy will help you boost your sales. It is a sales email software for monitoring email performance, sending follow-up emails, and creating templates.
You can create numerous templates and organize them into a folder. And the best part of it is it has intelligent mail merging features that support different email providers and intelligently send emails at an interval to avoid getting flagged as a spammer. With 1000 credits per month, it is already a wise deal for solopreneurs at a cost of $33 per month.
What can it do?
Create, organize, and manage your email templates
Schedule sending emails to different groups and assigned time zones
Track email performance with detailed analytics
Supports various email providers with mail merge function
Track how many times recipients open your attachments


2) SmartReach: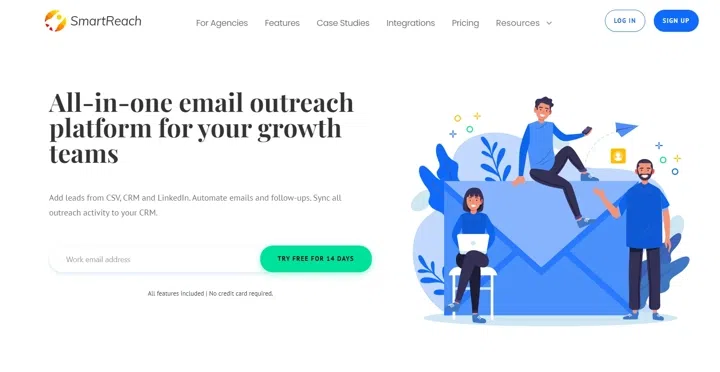 SmartReach is the true name for cold email automation. With over 1500 integrations, it syncs smoothly to third-party apps and even lets you add more prospects from your social media like Twitter and LinkedIn. It has impressive email performance tracking that it can even detect replies. So it automatically stops sending follow-ups for specific contacts when needed.
Starting at $24 per user, it can contact up to 1000 prospects per month. The same amount goes for an additional account.
What can it do?
Create and send personalized messages and follow-ups
Custom time sending of messages
Tests that bring your emails on the inbox and not on spam folders
Smart A/B testing and detailed email performance reports
CRM integrations
User-friendly interface
Supports various email platforms such as Gmail, Mailgun, Office 365, or Sendgrid
Account-based sales approach
Plans for agencies
3) Woodpecker: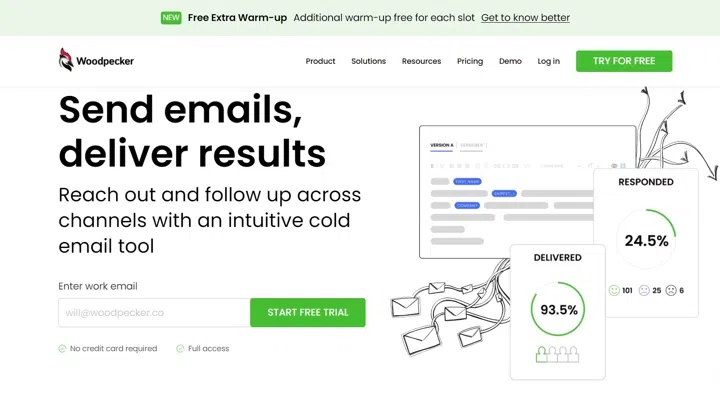 If your business uses different marketing tools such as Salesforce and Zapier, this could be the best tool for you. It has a user-friendly interface, and anyone in your team can easily design your email and follow-up sequences. Great for team collaborations, it offers a lot more room to personalize your automated outreach campaign.
Woodpecker lets you pay only for the features you'll use, starting at $39 per month.
What can it do?
Automates your messages and follow-ups
More opportunities to personalize messages
Integrates with various mailboxes such as Gmail and Outlook
A/B testing with detailed statistics reports (open rates, bounce rates, click-through rates, etc.)
Import contacts or details from CSV or Excel
Customized pricing and plans
Include manual tasks in the campaign
High-security measures
4) GMass: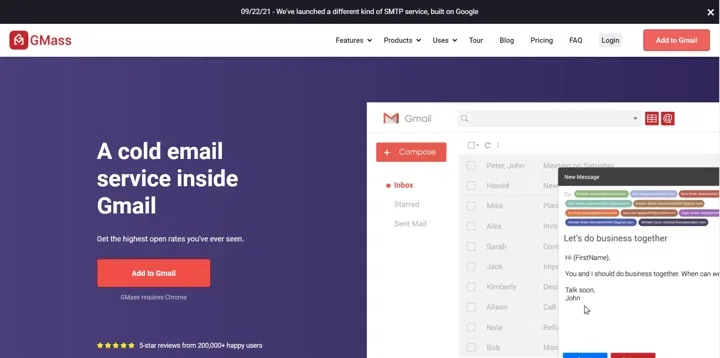 GMass is a cold email plugin within your Gmail. While there is a limited number of emails you can send per day with your Gmail account, you can send thousands of emails with your Gmail with GMass. The plugin also tracks emails, automates and personalizes messages, manages prospects and contacts within your Gmail. If there's any downside of GMass, it would be the limitation of using only a Gmail account, and it has no A/B testing.
Its $19.95 standard account plan has limited features, not including sequence, follow-ups, and A/B testing. Their $29.95 premium plan has more features.
What can it do?
Automated email list building
Automated personalized messages
Automatic generation of email reports and analytics
Schedule bulk emails
Integrate with Google Sheets, Salesforce, Hubspot, and Zapier seamlessly
Use it on Android devices
More affordable than other cold email services
5) Lemlist: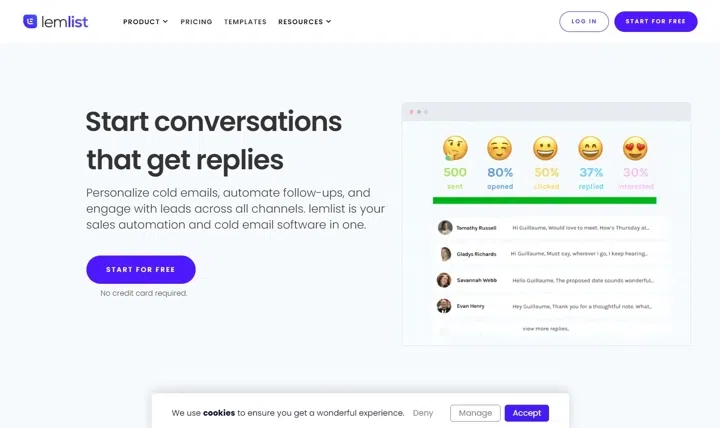 Lemlist brings your automated personalized messages to a whole new level. It gives room to make custom messages more specific to the recipient. You can send personalized videos, images, and landing pages to your recipients to make it special.
It has very specific actions for triggers, which makes its system unique from another cold email tool. Pay for email warm-up plan at $25 per month billed annually.
What can it do?
Lemwarm feature sends unique messages like a human, reducing chances of going to spam folder
Personalized content from the subject line to the email body
More accurate audience segmentation
Integrate Lemlist with your Linkedin, Slack, Facebook Ads, and more
Integrates with CRM, automation, or lead generation tools like Zapier, Salesforce, Hubspot, UpLead, and more.
6) Hunter:
Hunter.io is a web-based marketing tool used for finding and verifying emails. True to its name, it constantly crawls up and scrapes the web to search for hard-to-find contacts for your next campaign. They also have a Chrome extension that shows emails on the website you are visiting. Hunter claims their crawlers can go over 200,000 web pages per minute.
The free plan lets you search for 25 emails per month, with up to 50 verifications. The starter plan costs about $49 per month and lets you search up to 500.
What can it do?
Scrapes emails over the web
Verifies active emails
Free cold email managing
Provides email sources
And includes the department the email belongs to
7) Prospect: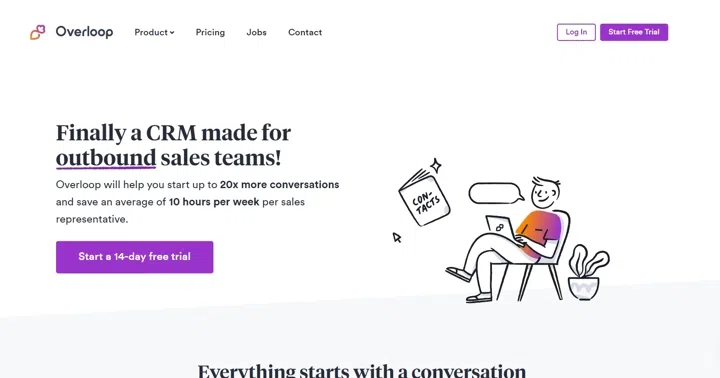 Prospect.io is an all-in-one cold email outreach tool. It works from finding email addresses and automating cold emails. It has a Chrome extension that shows email addresses from a website and LinkedIn. What makes it even an all-in-one tool is it integrates with other CRM tools such as Hubspot and Zapier. If there is only one needed improvement, it should be the personalization features.
You can do away with the free plan. However, payment is separate for advanced CRM features that cost $79, and email finder costs $39 for every 250 credits per user and month.
What can it do?
Scrapes email through Chrome extension
Set up drip campaigns
Integrates with the most commonly used CRM tools
Tracks out-of-office replies and bounce rates
Supports Gmail and Outlook
8) Mailshake: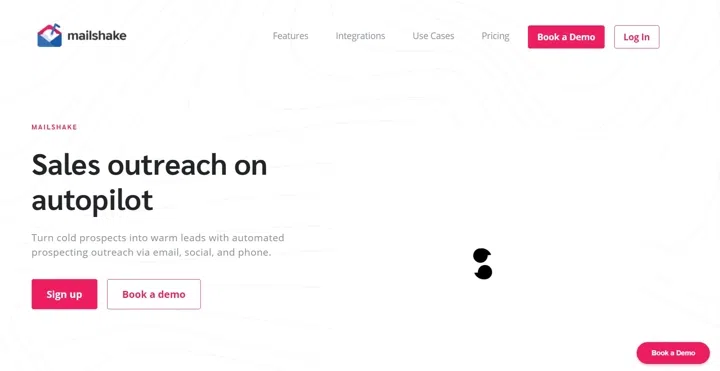 Mailshake is a classic cold emailing tool that offers live email campaign features. Through its live email campaign features, you can pause sending of emails. You can also integrate it with a phone dialer to include in your sequence.
With 5000 recipients or credits, you'd have to pay $44 a month.
What can it do?
Setup personalized campaigns
Schedule follow-up messages
Upload email lists
Optimize emails for mobile
A/B tests
Email tracking with detailed analytics
9) Snov: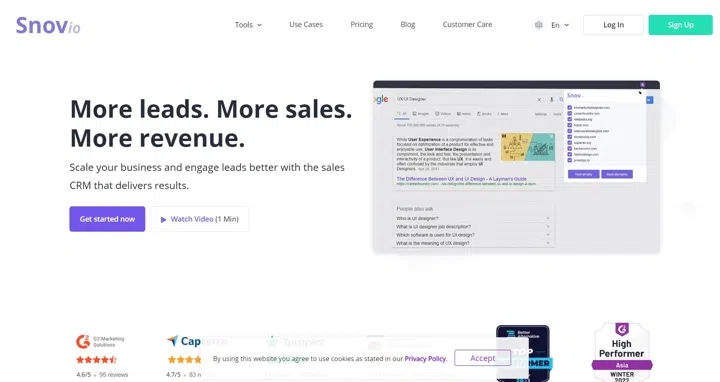 More than an email finding and verifying tool, Snov.io also supports your email outreach campaign and helps you manage your leads. It automates your emails or schedule and sends them by a group. By setting up its Chrome extension, you can search emails by domain, company name, or social media accounts. It sits between email prospecting software and an outreach marketing tool.
What can it do?
Searches and verifies email through websites, company names, and social media profiles
Sends automated messages by the event of triggers
Create personalized subject lines and email body
Real-time notifications and tracking of email
10) AutoKlose: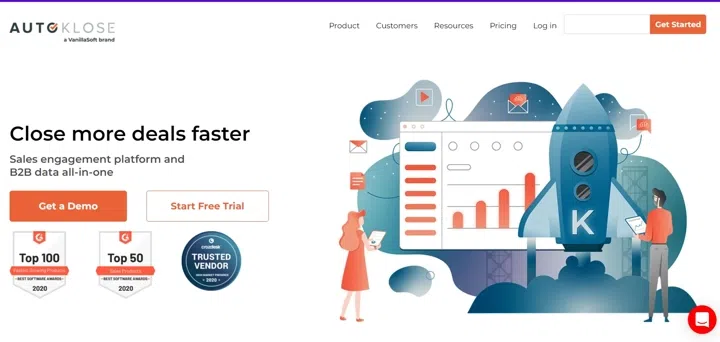 More than a simple cold email marketing tool, AutoKlose will nurture your leads until it converts. It takes care of your sales funnels, drip campaigns, and lead generation. And with pre-made email templates, you do not have to start from scratch.
All you need is to tweak them a little, set up your contact lists, and schedule them. You can let the tool sort cold and warm leads. 
It works with different email providers and integrates mainly with Salesforce. Its starter plan with unlimited contact uploads starts at $59.99 a month.
What can it do?
Monitor email productivity with detailed reports
Logs activity of email receiver
Create and manage templates
Intelligent contact management
Manage your email campaigns
A/B testing
Whether upgrading your existing campaign or starting up, there's always a cold email platform that fits your business. All you need is to invest.